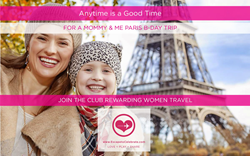 Join the Only Social Club Rewarding 100 Women B-Day Trips for Two to London, Paris & Tuscany...
SANTA MONICA, Calif. (PRWEB) May 01, 2018
Escape to Celebrate is the only social travel club that is rewarding 100 women B-Day trips for two; and sponsoring fun Art Beauty Chocolate & French parties.
According to Escape to Celebrate Founder, Carlos Cymerman, "When everyone loves life...the party never ends. We're looking for club members who love to share travel and want to experience life differently..."
How to Join Escape to Celebrate
RSVP with Susan(at)EscapetoCelebrate(dot)com to attend the next invite only party hosted in Santa Monica, to meet in person.
1. Art & French Pastries
2. Be Creative+H20 Party
3. Belgian Chocolates & Melting Chair Massages (Party on May 12, 1-3 pm)
Too busy on the weekend to come and party, then email Susan(at)EscapetoCelebrate(dot)com to meet club founder for lunch in Santa Monica.
How Does Funding Travel Work?
Members are invited to participate in Recruiting for Good a staffing agency that rewards referrals with travel.
1. Member introduces a hiring executive at a company, and Recruiting for Good finds the company a new employee.
2. Recruiting for Good earns a finder's fee that is shared to sponsor club member's B-Day trip for two.
3. Monies are paid to luxury travel expert, Denise Schaefer, who designs the perfect trip.
What Types of Inspired Trips are Rewarded?
1. Coming of Age, "Mommy & Me" Paris Trip
2. Empty Nest Moms & Girlfriend Europe Trip
3. Happily Divorced in Tuscany with BFF Trip
Escape to Celebrate Founder adds, "Join our social club to have the time of your life, attend our invite only parties, celebrate a b-day trip, and meet like-minded friends."
About
Escape to Celebrate is the only social club dedicated to reward 100 women B-Day trips to gift and share. Escape to Celebrate carefully selects and only invites women whose contribution to community, family, and work has made a lasting difference. The Escape to Celebrate team delivers a confidential, and personal service. Members are invited to intimate celebrations to meet like-minded friends, and grow from within; Fun Art Beauty Chocolate & French Parties.
Recruiting for Good since 1998 has been connecting talented Accounting/Finance, Engineering, and IT professionals to great jobs. "We support Our Moms Work, a fun community service." And reward referrals with travel to celebrate life.
Denise Schaefer works at Plaza Travel and has 35 years of travel experience, she specialize in high-end Luxury cruises, tours and travel, along with Group and Religious travel, Honeymoons and Destination Weddings. In 2014, Denise was honored to be in the Top 25 All Stars for Travel Agent Magazine and in 2016 was awarded one of the Top 10 Luxury Travel Advisor Trendsetters. Denise is also certified with Tourism Cares as a Global Travel Advisor - making a difference in the world and supporting clients through good giving and volunteering. To learn more click here.