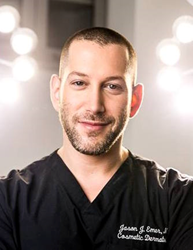 What patients like about this new soft tissue filler is that it delivers immediate results without incurring much if any, downtime.
BEVERLY HILLS, Calif. (PRWEB) May 02, 2018
Trailblazing cosmetic surgeon Dr. Jason Emer has upped the ante on facial rejuvenation again, as he is among the first doctors in the country to offer a recently-approved soft tissue filler proven in clinical trials to improve one's facial aesthetics. After years of success enhancing the appearance of patients throughout Canada, Revanesse® Versa™ is now available in the U.S., and Dr. Emer is among an exclusive group of doctors given the go-ahead to provide it to patients seeking to restore their youthful appearance.
"Revanesse has been showing fantastic outcomes in our patients, with minimal downtime and much less pain or swelling compared to other fillers. Patients report satisfaction in areas such as the smile lines (nasolabial folds), lips, under eyes, cheeks, nose, chin, and jawline. So, I am excited to offer our amazing patients another outstanding option to enhance their appearance," says Dr. Emer. "Versa delivers rejuvenating effects that are subtle and natural, which many patients are seeking these days. It's an extremely versatile treatment and has a better price point than the majority of fillers."
See the before and after results on Dr. Emer's incredibly popular Instagram account:
Male Eyes
Male Lips
Male Chin
Female Chin
Male Under Eyes
Indeed, Revanesse Versa addresses a variety of patient concerns such as softening wrinkles and folds and contouring facial structures such as,

Smile lines (nasolabial folds)
Undereye dark circle and hollows / Tear trough augmentation
Cheek and mid-face contouring, defining, and lifting
Temple and eyebrow lifting
Jawline and chin contouring
Fine lines around the mouth and eyes (perioral and periocular lines)
Marionette lines under the mouth / "jowl" improvement
Neck wrinkles / "tech neck" improvement
Hand rejuvenation
Lip plumping
Watch Dr. Emer expertly use Revanesse for facial contouring:
Lip Injections
Male Facial Sculpting
Female Facial Sculpting
Revanesse Versa can even help rejuvenate the back of the hands by adding volume, resulting in smooth, supple skin. It is also formulated to be injected more easily, and it spreads more consistently while holding the desired shape better.
"One of the features of Revanesse Versa that I really like is that it conforms to the skin of the face and body very easily so it looks very natural and soft, unlike some other fillers that are harder and lumpy if not easily moldable," Dr. Emer says. "What patients like about this new soft tissue filler is that it delivers immediate results without incurring much, if any, downtime because it has very little swelling."
Highly sought-after in Hollywood and Beverly Hills circles for his technical skill and eye for aesthetics, Dr. Emer is able to create beautiful results that are improved yet subtle and not overdone. In his hands, Revanesse Versa is a non-surgical, minimally-invasive method of softening lines, improving signature features of the face, and improving contouring in just a few minutes.
"I firmly believe that amazing cosmetic results are a matter of choice, not chance; you have to trust your face and body to an artist who is experienced and innovative," Dr. Emer says. "Revanesse Versa is the newest choice in our toolbox of fillers to help deliver a smoother, younger, more lifted and shaped appearance. I'm proud to be among the first doctors in America to provide this to my fantastic patients, and I look forward to seeing how it will enhance their appearances in the future."
Dr. Emer on Social Media:
Facebook @JasonEmerMD
Snapchat @JasonEmerMD
Instagram @JasonEmerMD
Twitter @JasonEmerMD
Visit https://JasonEmerMD.com/ for more information on the most advanced treatments in cosmetic dermatology, facial sculpting, and body contouring.
For reviews: Realself.com & Yelp.com
Contact: Media(at)JasonEmerMD(dot)com
More information about Dr. Jason Emer:
Dr. Jason Emer's main practice and passion are liposculpture and facial and body sculpting/etching procedures. For obtaining the best results with the least amount of downtime, and for patient safety reasons, all procedures are performed using minimally invasive techniques, which allows for a comfortable surgery with little risks. Dr. Emer uses all of the advanced technologies for facial and body contouring/etching to tailor his results to each person's concerns; no single device or type of liposuction is used.
Dr. Emer is a leading expert in cosmetic and laser dermatology utilizing the latest advancements in non-invasive treatments for aging. He utilizes combination treatments to get the ultimate results and customizes treatments to the patient's skin type and long-term goals. His interests include acne and traumatic scars, abnormal pigmentation, burns, and anti-aging/rejuvenation combination treatments. He personally treats all his patients to ensure the best results and doesn't delegate to other staff in most instances.
Jason Emer, MD
9201 Sunset Blvd. Suite 708
West Hollywood, CA 90069
(424) 285-5545
Media(at)JasonEmerMD(dot)com