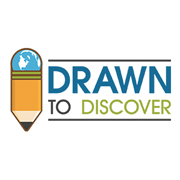 Dr. David Barrett explains, "Learning is about connection: human connection and knowledge connection. I'm proud that Drawn To Discover is a valuable tool for helping children build those connections in a fun and creative way!"
AUSTIN, Texas (PRWEB) May 01, 2018
The visual literacy program, Drawn To Discover, is examining the topic of state assessments in our schools through the lens of creativity and natural learning. May is a popular time for such testing and right now millions of students, parents, and educators across the country are dealing with the effects – both positive and negative.
In this quick-hitting 3-part series, Dr. David Barrett, Drawn To Discover's director of research and education, dives head-first into this pervasive and controversial topic through an examination of the Why, the What, and the How of learning and education. Starting with the basics, Dr. Barrett looks first at how humans learn and the foundations of formal education and then explores what is being taught in our schools and how that curriculum is delivered. You can read it here at drawntodiscover.com/blog
Dr. Barrett, co-author of Harnessing the Dynamics of Public Education and numerous scholarly articles, is a teacher, counselor, and educational researcher who has dedicated over 25 years to helping children and families foster growth and development. A new father himself, David is excited to be part of the Drawn To Discover team, "Learning is about connection: human connection and knowledge connection. I'm proud that Drawn To Discover is a valuable tool for helping children build those connections in a fun and creative way!"
Co-Founder, Brian Goodman, started DrawnToDiscover.com because his search ran dry for supplemental educational resources that could help the complex learning differences presented in his special needs child. He added, "Dr. Barrett's blog provides great insight and asks challenging questions for concerned parents like me. Education is a broad and complex topic and David does an excellent job of presenting the issues in a clear, concise, and objective way with an insider's perspective. He raises important questions that everyone needs to consider. Indeed, Dr. Barrett illustrates many of the reasons Drawn To Discover was born!"
About Drawn To Discover, LLC
 
DRAWN TO DISCOVER is a progressive and pioneering visual literacy and learning solution for children. We manifest creativity and self-confidence through interactive ENRICHMENT video lessons built to develop fine motor skills into cognitive growth. Happiness is our magic ingredient.