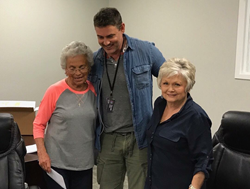 Eric and his organization CAN-DO came into Rose City when we were at our lowest... He took control and helped with organizing [supplies], raising money and gave Lowe's gift cards to the citizens. We will be forever in debt to Eric and CAN-DO. -Mayor Bonnie Stephenson
ROSE CITY, Texas (PRWEB) May 02, 2018
Global disaster relief organization, CAN-DO.ORG distributed over $107,000 in Lowe's gift cards to Southeast Texas residents in Rose City still devastated after Hurricane Harvey seven months ago.
All but two homes in Rose City were completely under water following the storm. Many residents in the town of roughly 500 people are retirees and veterans with critical needs.
"After we got through the acute stage post-hurricane I realized the most efficient approach to help these residents was to get them the funds directly to them," Eric Klein, founder and CEO of CAN-DO.ORG, a non-profit organization dedicated to cutting through red tape and delivering aid when it's needed most, said.
For 15 years, CAN-DO.ORG has followed a simple but radical idea that yields big results: give away everything they bring in.
"100% of the funds we raise for a project goes to the actual project. We don't use donation money for salaries or travel, we make sure donations get directly to the people who need it most," Klein said. "When we wrap a project, the account has a zero balance."
CAN-DO.ORG raised $107,049 as part of their "gift card challenge" for residents in Rose City. They relied on City officials to provide them a final list of homes rebuilding. CAN-DO.ORG then took the total number of homes rebuilding and divided it by the total donations raised to determine the value of each of gift card.
The result: 125 households rebuilding in Rose City each received a Lowe's gift card stocked with $860 to spend on rebuilding supplies or appliances needed.
"Residents are at different rebuilding stages – some haven't even hung dry wall yet, others are waiting for bathroom fixtures and a shower in order to move back in their home. The gift cards allows residents to be in control," Klein said.
In December, Lowe's Companies Inc. donated $10,000 to CAN-DO.ORG after Klein's appearance on NBC's Today Show. The show featured CAN-DO.ORG's disaster relief efforts in Texas. Klein and his CAN-DO team took the small contribution from Lowe's and produced more than a 10x return through a fundraising campaign on social media.
Klein's approach to leading CAN-DO.ORG projects is based on a common sense model versus a one-size-fits all philanthropic approach.
Rose City Mayor Bonnie Stephenson says she's never seen a non-profit organization so hands-on and accountable.
"Eric and his organization CAN-DO came into Rose City when we were at our lowest after Harvey devastated our town," Rose City Mayor Bonnie Stephenson said. "He took control and helped with organizing [supplies], raising money and gave Lowe's gift cards to the citizens. We will be forever in debt to Eric in CAN-DO."
Despite billions of dollars raised for survivors of Hurricane Harvey by large NGOs and FEMA assistance programs, CAN-DO.ORG discovered many south Texas towns have no means to rebuild after being denied financial assistance.
"We're seven months post-disaster and we have Hurricane season coming back right around the corner. The biggest issue I see time and time again is lack of accountability in terms of money non-profits bring in actually making it to the people who need it most," Klein says.
CAN-DO.ORG was tipped off on the small town of Rose City in September 2017.  At that time there was no distribution of aid set up and CAN-DO.ORG's Eric Klein discovered residents sleeping on tarps outside their destroyed homes. Klein made an emotional plea through a video he posted on social media alerting the public of the dire situation in Rose City. The video went viral – hitting more than half a million views in less than 72 hours.
Within 10 days, CAN-DO.ORG set up a large-scale distribution center in Rose City with the support of city officials. Containers and tents housed supplies that were donated from coast to coast including a food pantry, mold remediation material, cleaning products, cots, tens, fans and toiletries. CAN-DO.ORG commissioned local volunteers to help distribute directly to the community.
Klein and the CAN-DO.ORG team continue to advocate for residents in Southeast Texas who are struggling to access rebuilding resources.
ABOUT CAN-DO.ORG:
CAN-DO (Compassion into Action Network - Direct Outcome Organization) is a 501(c)(3) non-profit organization that donors can count on to get the job done. From natural disasters to humanitarian crises, we provide critical aid to communities who need it most in a timely and transparent manner. We are not tied down by politics or bureaucracy, and do not delay delivery of lifesaving resources by getting caught up in the red tape. We are dedicated to providing lasting, self-sustainable solutions for people facing some of the world's most critical problems. We go anywhere in the world and do whatever it takes to get the job done. 100% Accountability – ZERO Red-Tape. Contact CAN-DO, info(at)can-do(dot)org
ABOUT ERIC KLEIN:
No one defies stereotypes or clichés about aid organizations more than Eric Klein, CEO and founder of CAN-DO.ORG. Klein has a long track record cutting through red-tape and producing lasting results in disaster stricken areas in the United States and around the world. Klein started CAN-DO.ORG in 2004, after being personally frustrated watching big-name organizations collect millions of dollars in donations, but not showing results. Fast forward 13 years, Klein hasn't slowed down. CAN-DO.ORG has since completed large-scale disaster and revitalization projects around the world, including after Hurricane Isaac, Katrina and Sandy in the United States, as well as in Rwanda, Haiti and other areas that are too often ignored. Klein's unique approach to humanitarian aid – which includes hiring locals and employing U.S. military veterans – produces rapid results and direct assistance to the people impacted, which unfortunately is rare after a disaster. Being transparent with donors is another key to Klein and CAN-DO.ORG's success. They provide direct access to real-time updates from the field, LIVE video streams and completion videos after the project wraps. His work continues to revolutionize the relief industry and is leading the movement to create sustainable social change. Klein has been featured on CNN, CNBC, People Magazine, Huffington Post, among other national and local media outlets. In 2008, Oprah Winfrey chose Klein as a contestant for her ABC primetime show, Oprah's Big Give – a reality program that challenged contestants to give away money in unique ways and become one of America's greatest unknown philanthropists. Later that year, Klein was awarded a Global Compassion Award at the United Nations for his achievements in international disaster relief efforts and humanitarian aid. In 2013, he was honored by his hometown in Massachusetts as one of the Legendary Locals of Salem, which archives in the town's records unique individuals who have made a memorable impact throughout history. He received a Heroes of Haiti award in 2010. Contact ERIC KLEIN - ek(at)can-do(dot)org