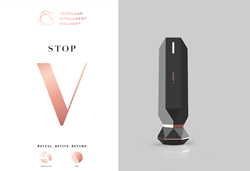 The TriPollar RF treats the skin in order to tighten it and reduce wrinkles, while the DMA contracts the muscles to provide toning of the SMAS and achieve the lifting effect.
TEL AVIV, Israel (PRWEB) May 03, 2018
Pollogen Ltd., the company that brought the TriPollar and DMA technologies to users worldwide, is now offering this unique and highly effective solution for customers who wish to achieve a natural face-lift effect in the comfort of their home.
Pollogen's Stop V has been designed specifically for the SMAS area - the Superficial Muscular Aponeurotic System. The SMAS is the muscular system that is manipulated during plastic surgery for face lifting. In Stop V, the DMA technology works on the same muscle group, creating a non-invasive and natural face lifting effect.
The Stop V device combines two proprietary and well-documented technologies: Tripollar RF and DMA (Dynamic Muscle Activation). "The great face-lifting effect is achieved by the synergy between of these two technologies," explains Dr. Alex Levenberg, plastic surgeon and expert in non-invasive aesthetic solutions. "The TriPollar RF treats the skin in order to tighten it and reduce wrinkles, while the DMA contracts the muscles to provide toning of the SMAS and achieve the lifting effect."
Since both technologies work on the tissue simultaneously, the combined effect is seen immediately, even after a single treatment. The effect is further enhanced and sustained in the long-term when the treatment is repeated over several weeks. Each treatment is short, pleasant and has no downtime or pain. Users of the Stop V describe a warm relaxing sensation during and after the treatments. In light of this, a regimen that maintains the lifting results is easy to follow as part of the personal beauty routine.
"We are proud that we can now offer our leading technologies, valued by aesthetic practitioners in clinics and salons worldwide, to our customers at home," says Sharon Ravid, Pollogen's CEO. "By expanding our technological expertise to portable hand-held devices like the Stop V, we open up new opportunities for our customers and enable them to achieve their aesthetic desires."
Stop V will be available for purchase from May 2018 in China on Tripollar Tmall Flagship Store at tripollar.tmall.com
About Pollogen
Pollogen Ltd., a company of Lumenis, is a global leader in the medical and home-based aesthetics markets, providing innovative, safe, and effective solutions that enhance and expand the practice of medical aesthetics professionals, as well as private aesthetic customers. The company offers products to support a range of skin treatments, based on its proprietary technologies, namely Tripollar RF, Ablative RF, Fractional RF, Oxygeneo and DMA.
Pollogen provides solutions for professionals and consumers in more than 60 countries, addressing the specific needs of its professional clients and private customers in the dynamic aesthetic industry.
About Lumenis
Lumenis is a global leader in the field of minimally invasive clinical solutions for the surgical, ophthalmology and aesthetic markets, and is a world-renowned expert in developing and selling energy-based technologies, including laser, intense pulsed light (IPL) and radio frequency (RF). For nearly 50 years, Lumenis' ground-breaking products have redefined medical treatments and have set numerous technological and clinical gold standards. Lumenis has successfully created solutions for previously untreatable conditions, as well as designed advanced technologies that have revolutionized existing treatment methods in each and every one of the verticals we operate in. Our drive for innovation stems from an uncompromising commitment to improving the health and well-being of our patients; addressing new and growing needs of aging populations; and offering medical professionals cutting-edge solutions that meet the demands of modern life. The world over, we bring Energy to Healthcare.