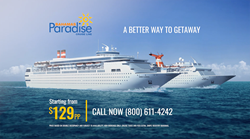 "In addition to Worldmedia's deep understanding of the travel industry, they bring us a unique digital and creative perspective that makes them a great fit to help amplify the flexibility and convenience of the Bahamas Paradise Cruise Line experience."
MIAMI (PRWEB) May 02, 2018
Worldmedia Interactive, agency of record for Bahamas Paradise Cruise Line as of September 2017, is launching a new brand campaign to promote the addition of the cruise line's second ship, the Grand Classica, and the now daily departures of their 2-Night Cruise to Grand Bahama Island from the Port of Palm Beach.
Driving Bahamas Paradise Cruise Line's brand awareness and evolving the brand identity are the agency's two major strategic moves, embodied by the new tagline: "A Better Way To Getaway." The new identity builds upon the cruise line's great value, giving it a fresh spin that will entice a new crop of guests looking for a fun, quick, and easy getaway. https://www.youtube.com/watch?v=Zoo5O1YDqCU
"We are excited to partner with Worldmedia Interactive in developing and executing strategies as we continue to grow our brand," said Maria Miller, Bahamas Paradise Cruise Line's Chief Marketing Officer. "In addition to Worldmedia's deep understanding of the travel industry, they bring us a unique digital and creative perspective that makes them a great fit to help amplify the flexibility and convenience of the Bahamas Paradise Cruise Line experience."
ABOUT BAHAMAS PARADISE CRUISE LINE
Bahamas Paradise Cruise Line is the only provider of two-night cruises and cruise & resort stays to Grand Bahama Island year-round from the Port of Palm Beach. Majority owned by the family of former Norwegian Cruise Line President and CEO Kevin Sheehan since December 2016, the company now operates Grand Celebration and Grand Classica as of April 2018. The addition of a second ship doubles the Line's capacity and with both ships sailing to Grand Bahama Island, the company is projected to carry more than 500,000 passengers annually and be the largest contributor to tourism in Grand Bahama Island. For more information on the features and amenities of the cruise line or to book a cruise, visit the company's website: http://www.BahamasParadiseCruise.com or call: 800-995-3201. Follow the company on Facebook, Twitter and Instagram.
ABOUT WORLDMEDIA INTERACTIVE
Worldmedia Interactive has been building brands and driving results for more than 18 years with offices in Miami, Los Angeles, and Honolulu. A full-service, integrated advertising agency with digital at its core and a host of high profile clients such as Norwegian Cruise Line, Resorts World Bimini, Karisma Hotels & Resorts and Enterprise Rent-A-Car. For more information, visit worldmedia.net.
"We are so excited to be Bahamas Paradise Cruise Line's agency of record," said Andrew Stewart, President of Worldmedia Interactive. "We share a mindset of highly valuing customer relationships and are excited to expand their brand as they launch the Grand Classica."