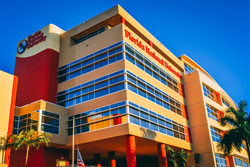 We always get a lot of success stories from these events.
HIALEAH, Fla. (PRWEB) May 03, 2018
On Thursday, May 10th, 2018, Florida National University (FNU) will be hosting its Spring 2018 Job Fair. The event is set to take place from 10AM to 1PM at FNU's Hialeah Campus that is located at 4425 W Jose Regueiro (20th) Avenue, Hialeah, FL 33012. This event is the first of two annual career events where over 30 companies are scheduled to be in attendance, all of which are looking to hire for multiple positions.
Job Placement Officer, Hernan "Fred" Gutierrez, knows the grand prospect of an event like this: "There's going to be a lot of great employers in the building, so we're extremely excited to present the opportunity to pair those companies with job-seekers in our community. We always get a lot of success stories from these events." To prepare for the event, our Job Placement department offers resume-writing, interviewing tips and other services that will help you maximize your chances of finding your new career.
About Florida National University
Florida National University is a regionally accredited higher learning institution founded in 1982. FNU awards a variety of certificates, associates, baccalaureate, and master degree programs, including 22 distance-learning program opportunities.
FNU: opening doors to the future.
Contact:
Kevin Martinez
Social Media /Marketing Coordinator
305-821-3333 ext. 1066
kmartinez(at)fnu(dot)edu