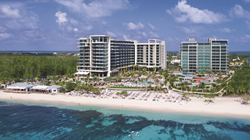 Last year's storms brought an influx of people who were previously unfamiliar with Grand Cayman, but this has led to more sales as they have fallen in love with the island and are keen to make here their second home
(PRWEB) May 02, 2018
With increasing stay-over tourism numbers to the Cayman Islands, experts in the local real estate industry say the jurisdiction is poised to reap the rewards.
The tri-island Caribbean nation recorded its best stay-over visitation figures yet in 2017 with 418,403 stayover visitors, a record-breaking increase of nearly nine percent over 2016.
Real estate numbers have risen in kind. An increase in the value of sales hit a record best of CI$679 million in 2017 - a nine per cent increase from the year before, according to the most recent property report by Cayman Islands-based independent property consultants, Charterland.
Experts point to the broader visitation picture as a driver of real estate, which they say is reflective of the increased tourism numbers. Ian Jameson, Head of Property and Banking Finance at Cayman Islands law firm Solomon Harris agreed visitation can convert to real estate sales. "Many of my clients who decide to buy here tell me that they first came over as tourists staying in local hotels three or four times before deciding that they would like to live in Grand Cayman," he says.
Growth in air-travel can also be attributed to the introduction of more non-stop flights from key North American gateways like Dallas, and a Kimpton hotel clientele attracted to the island by their loyalty to the brand about its first luxury property - the Kimpton Seafire Resort + Spa and the adjacent units for sale, The Residences at Seafire.
Realtors also note the increase in visitation can be partially attributed to an active 2017 hurricane season which left Grand Cayman untouched. "Last year's storms brought an influx of people who were previously unfamiliar with Grand Cayman, but this has led to more sales as they have fallen in love with the island and are keen to make here their second home," says Ruth Gustafsson, Associate Broker for Provenance Properties Cayman Islands the local Christie's International Real Estate affiliate.
A popular tourist destination, Seven Mile Beach remains the area of choice for real estate sales due to the number of Grand Cayman luxury properties available for sale, according to the Charterland report. Data showed 130 beachfront condominiums sold on Seven Mile Beach last year, a 20 percent jump from 2016 purchases. "Sales are robust for luxury product and Seven Mile Beach is always an area of interest," said Ms. Gustafsson. "Resort-residential product like The Residences at Seafire and The Ritz-Carlton, Grand Cayman are always popular. We've also seen this interest extend past the Seven Mile Beach corridor inland to canal-front developments and luxury single-family homes across the island."
For more information on Grand Cayman luxury beachfront properties for sale, such as The Residences at Seafire which offers one to five bedroom residences for sale starting from US$1.5 million, visit http://www.provenanceproperties.com
ABOUT PROVENANCE PROPERTIES CAYMAN ISLANDS
Provenance Properties is the exclusive Cayman Islands Christie's International Real Estate affiliate, the sole real estate brokerage for Dart Real Estate and a member of the Cayman Islands Real Estate Brokers Association (CIREBA).
Provenance provides singular access to a large and growing portfolio of private residences, condominiums, hotel residences and land in the Cayman Islands. Provenance is your gateway to the community that embraces all the Dart places have to offer, inclusive of special event invitations, custom and experiences. In addition to premium entry to the Cayman Islands most desirable properties, Provenance leverages the experience and reputation of the region's premier real estate developer.
For more information, visit provenanceproperties.com, keep up with the latest information on Facebook and follow us on Twitter and Instagram.
ABOUT THE RESIDENCES AT SEAFIRE
The Residences at Seafire is a waterfront 10-storey architectural gem on Grand Cayman in the Cayman Islands. Developed by Dart Real Estate, it houses a collection of 62 distinct residences which marry contemporary Caribbean style with high-design. The Residences are exclusively represented by Provenance Properties Cayman Islands, the Cayman Islands Christie's International Real Estate affiliate.
The Residences feature diverse floorplans to suit every taste and family – from ultra-chic studios to stately five bedroom residences. Characterised by ample outdoor living space and direct entry into an open living area, many of The Residences at Seafire showcase stunning sea-to-sea views of both Seven Mile Beach and the North Sound, a rarity in Grand Cayman real estate.
Located adjacent to the Kimpton Seafire Resort + Spa, the first resort to open on Grand Cayman's Seven Mile beach in over a decade, owners at The Residences will enjoy thoughtful amenities which include, The Spa at Seafire, a state of the art fitness centre, a choice a cascasding ocean-view pool or a private residents only pool and three signature restaurants: a beachside bar and grill, a lively main restaurant with unparalleled panoramic views, and a signature restaurant serving Spanish Tapas with an exclusive Chef's Table.
For more information, visit seafireresidencescayman.com and follow along on Twitter and Instagram.