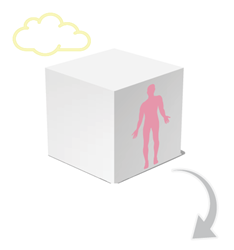 MILWAUKEE (PRWEB) May 01, 2018
Cubismi, a digital healthcare company and new member of StartUp Health, announces its new technology My Virtual Body One File™ (aka "One File"), a groundbreaking computer system that organizes dispersed medical images and other clinical data into a singular framework for precision analytics of a patient's body. The technology leverages population data and AI to create new precision insights into the human body to create advances in patient care, as well as productivity gains for radiologists and other doctors to decrease healthcare costs. Further, by simplifying medical data into a singular "One File," the technology will decrease IT complexity. The Virtual Body Bio-Map of the patient's body will act like a "Google maps" of the human body to augment the power of information doctors can access and leverage to best care for their patients.
The My Virtual Body One File™ technology harnesses Cubismi's recently granted U.S. patent on their Methoding System for Creating Probability Maps of the Human Body, the first patent of its kind worldwide. The technology uses the patented "Moving Window" to determine predictive analytics for individual patients for even the smallest components of medical images, three-dimensional tissue areas called "voxels," via comparisons to a population library of imaging and other clinical data." By way of example, these "voxel" predictions for an individual patient may include answers to questions such as: Is early cancer growing? Is my tumor responding or likely to respond to treatment? And/or Is my disease a certain genetic subtype?
Cubismi has recently joined StartUp Health, a global innovation company that is organizing, supporting and investing in a global army of Health Transformers to get exclusive access to coaching, community, industry access and promotion aimed at successfully navigating the complicated healthcare industry.
"We have been working very hard on these projects for many years because we know that this transformative technology can create major advances for diseases such as cancer as part of the new precision medicine paradigm," said Dr. Moira Schieke, CEO and founder of Cubismi Inc., radiologist, cancer imaging expert, and adjunct assistant professor at the University of Wisconsin, Madison. "As a physician-founded company, Cubismi is firmly committed to keeping doctors and nurses in leadership roles for creating the "right" transformation of health care using the new tools of the fourth industrial revolution, including big data and AI. We believe that the real life experiences and subject-matter expertise of healthcare professionals, as well as patient experiences, are vital for developing the best healthcare IT. In addition, we believe that maintaining strong fiduciary trust will be absolutely critical in this new era of patient big data and precision analytics."
Cubismi, Inc.
Cubismi, Inc. is a "moonshot" start-up digital healthcare company located in Madison, WI that is boldly augmenting medical imaging for a new era of precision medicine. Cubismi is leveraging its intellectual property for state-of-the-art technology using the new tools of the fourth industrial revolution and defining a novel model for development of human-centric and values-based AI healthcare IT solutions. Cubismi plans to develop this technology in concert with the medical community to dramatically improve population health outcomes at far lower costs.
More details on website: http://www.cubismi.com