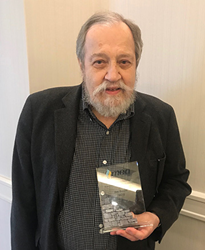 Trying to define Jim's greatest [contribution] to the environmental electric and gas sector is impossible
BLOOMINGTON, Minn. (PRWEB) May 02, 2018
MEA Energy Association (MEA) recognizes James Gould of Burns & McDonnell (retired) for his 35 years of experience in manufactured gas plant (MGP) site remediation and environmental consulting. Gould received the MEA Distinguished Environmental Award at the recent Environmental Learning Conference in Kansas City, Missouri.
The award recognizes individuals who have made significant contributions to the environment, especially in the electric and gas utility sector. This award, bestowed only when merited, acknowledges a specific breakthrough or achievement that has benefited the community of environmental professionals. Gould has been directly involved with over 60 MGP sites in more than 16 states. He was part of the project team responsible for the GRI "Management of MGP Sites" research and participated in several Electric Power Research Institute MGP research projects.
"Trying to define Jim's greatest [contribution] to the environmental electric and gas sector is impossible," said Derek Ingram of XDD Environmental. Some of his contributions include decades of environmental consulting, acting as 'The MGP Historian', and mentoring many in the energy delivery industry. Jim founded some of the environmental approaches the energy industry uses today, assisted with regulatory guidance, and served for over 20 years on the MEA Environmental Committee.
The MEA Distinguished Environmental Award program is an initiative of the MEA Environmental Committee. For a complete list of eligibility requirements and how to enter visit https://www.meaenergy.org/outreach/awards. For questions, contact Stacey Bonine at staceyb (at) MEAenergy (dot) org or call (651) 289-9600 x114.
About MEA:
MEA serves the people that deliver electricity and natural gas to homes and businesses. We were founded as a trade association over 110 years ago by distribution utilities whose vision was to improve safety and efficiency. Today, we fulfill the same purpose through education, leadership development, and industry connections. Energy delivery companies, contractors, and suppliers around the country benefit from our 55 summits, roundtables, and webinars, 400+ online technical courses, safety assessments, evaluator training, operator qualification compliance tools, and leadership courses for field personnel.