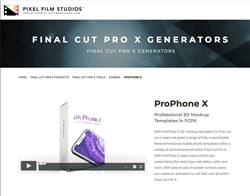 "Creating phone-template advertisements is now a breeze with ProPhone X for Final Cut Pro X!"
ALISO VIEJO, Calif. (PRWEB) May 02, 2018
ProPhone X 3D mockup templates for final cut pro x give users a range of fully customizable three-dimensional mobile phone templates within a variety of environments all within Final Cut Pro X. With ProPhone X users have control over customizing the metal type, cell status, color, and more. With easy to use on-screen controls users can create unique custom animations.
With ProPhone X Final Cut Pro X users now have the ability to customize and create 3D mobile phone animations with ease. Users are given the option of not only selecting self animating or key-framable animations, but are also given a variety of environment reflections to choose from. ProPhone X users now have full control over metal type, color, status controls, and more.
Users have full control over customizing each mobile phone template with full control over face color, back color, back shininess, metal type, time indication, mute button, cell reception, wifi status, battery life, screen drop zone, and even place a personalize image on the back.
With ProPhone X on-screen controls users have complete control over phone position, phone rotation, phone depth placement, camera position, camera rotation, and camera depth. Users have the ability to get the perfect personalized angle animation with a click of a mouse.
ProPhone X was professionally designed to work seamlessly inside of Final Cut Pro X. As generator ProPhone X can be dragged and dropped onto media with the timeline and previewed in real time. With the published parameters found in the FCPX inspector, users have the ability to make further adjustments through professionally crafted controls.
Established in 2006, Aliso Viejo, California-based Pixel Film Studios is an innovative developer of visual effects tools for the post-production and broadcast community. Their products are integrated with popular non-linear editing and compositing products from Apple FCPX. Apple, the Apple logo, Mac OS X, and Macintosh are registered trademarks of Apple Inc. in the U.S. and/or other countries. All other trademarks and trade names are the property of their respective owners.