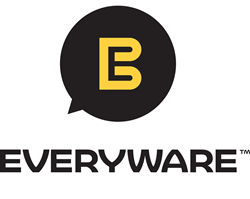 "We are excited to launch our new products at the prestigious ARDA World 2018 Annual Convention," said Larry Talley, CEO & President
LAS VEGAS (PRWEB) May 02, 2018
Everyware Inc, an Austin based company is redefining payment processing and customer engagement via two-way text communication, today announces the launch of its secure Pay By Text payment solution and Lead Gen App, at one of the world's largest hospitality events - ARDA World 2018 Annual Convention & Expo. These products will enhance marketing and communications in the hospitality industry.
Everyware is a next-gen CRM designed to build, promote and support the relationship between consumers and businesses. The company's communication platform provides businesses the ability to text message without ever picking up the phone.
Everyware's solution assigns each business with a dedicated messaging number that connects directly to a phone number of choice. By using BOT and AI technology, automated responses are sent back to customers. This technology not only drives customer engagement but improves the overall customer experience. With 95% of text messages read within 3 minutes, more businesses, particularly in the hospitality industry, are turning to text messaging communication.
The launch of Everyware's new Pay By Text mobile solution will create a more certified and easy connection between buyers and sellers, by sending an immediate text message with a secure link to click to purchase. This text message opens up a two-way communication that allows a customer to text back questions or concerns to mitigate refunds. Businesses can now utilize this new payment solution to streamline the customer's overall booking experience and response rates. Furthermore, increased communication post sale reduces buyer's remorse by asking important questions early in the sale.
In addition to debuting the Pay by Text solution, Everyware will also introduce its Lead Gen App at this year's ARDA Convention. Whether it is web-based or an app survey, this powerful lead generation tool can be used at any event to instantly send demographics and lead information directly to their CRM. Customers who participate in these surveys stand a chance to win prizes. Automated text reminders are sent out to drive engagement for these giveaways.
"We are excited to launch our new products at the prestigious ARDA World 2018 Annual Convention," said Larry Talley, CEO & President of Everyware. "Our technology solutions will pave the way to higher levels of customer service and change the way we communicate."
A simple text message can enhance the customer's experience before, during and after their stay. By creating a mobile connection, businesses can inform guests on check-in times, room upgrades and upsell activities during their stay. According to a study done by Twilio, 79% of consumers say that fast response times make for a positive customer experience.
About Everyware, Inc.
Everyware is raising the bar for better customer communication utilizing text messaging to drive a higher level of customer service for businesses. Our technology simplifies communication by creating a personalized connection that drives loyalty, improves reputation and redefines customer service. Everyware promotes real relationships between businesses and customers using just a mobile number.
For more information on how Everyware can change the way businesses communicate with customers visit their Linkedin.