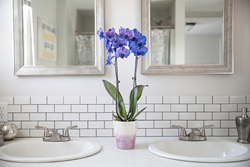 "More people are turning to potted plants like orchids to make a lasting impression and give mom something that will bloom and re-bloom over time, a symbolic reminder of the bond between parent and child."
OBERLIN, Ohio (PRWEB) May 02, 2018
Americans are spending more than ever on Mother's Day, with potted plants growing in popularity as a long-lasting alternative to more traditional consumable gifts.
The average shopper spent $186 for Mother's Day in 2017, a record high, according to the National Retail Federation. Greeting cards and flowers still top the list of the most popular items, with nearly 78% of survey respondents planning to buy a card and nearly 69% planning to buy flowers.
While flowers and cards are great traditional gifts for Mother's Day, more people are turning to potted plants like orchids to make a lasting impression and give mom something that will bloom and re-bloom over time, a symbolic reminder of the bond between parent and child.
"Phalaenopsis orchids retain their blooms for up to three months with proper care and can rebloom for years to come," says Kelly Dressler, marketing and communications manager for Green Circle Growers in Oberlin, which grows Just Add Ice® Orchids.
The long lifecycle of orchids and the ease of care - water once per week with three ice cubes - is a key factor in their booming popularity. In a 2017 Just Add Ice consumer survey, 75% of buyers said the longer lifecycle of a potted orchid motivated them to buy, while over 90% said the ease of care was a top factor in purchasing.
This new way to make mom's day isn't hard to find - Just Add Ice Orchids® are sold in retail stores and small businesses throughout the United States, including Kroger, Giant Eagle, Heinen's, and other stores in Northeast Ohio. Consumers can also buy orchids online and schedule delivery at justaddiceorchids.com.
Green Circle Growers is the largest orchid producer in North America, growing more than 8 million orchids each year. The family-owned greenhouse has been in operation since 1968 and recently celebrated 50 years in business.