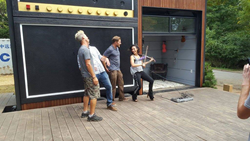 I love to practice my music on the deck barefoot and without a care in the world, says Asha Mevlana. She says AZEK's natural colors blend right in with the woodland environment.
SKOKIE, Ill. (PRWEB) May 08, 2018
Rock violinist Asha Mevlana, most known for performances with Trans Siberian Orchestra's West Coast tour, was thrilled to have her tiny home selected as the #1 home on Dwell's list of Top 20 homes of 2017. The renowned musician's home in Fayettville, Arkansas, came to life on FYI TV's "Tiny House Nation" a year ago, but recently the home competed with other, larger homes around the world for the magazine's top spot. The woodland dwelling features two separate structures joined by an AZEK Deck with an enormous wall-sized amplifier so Mevlana can play her Viper seven-string electric violin.
"I love to practice my music on the deck barefoot and without a care in the world," she said. The splinter-free, low-maintenance AZEK Deck has overcome the challenges of a tiny home by extending Mevlana's living space, almost doubling it, to the outdoors in wooded surroundings. AZEK's natural Brazilian Walnut color, she says, blends right in with the environment.
Mevlana has previously toured with Dee Snider (Twisted Sister) and Gnarls Barkley, with whom she performed at the Grammy Awards and has played with Mary J. Blige, Jay-Z, The Black-Eyed Peas, Roger Daltry (The WHO), and Alanis Morrisette, among many others.
Mevlana was attracted to tiny home living mainly because the minimal upkeep works with her touring and erratic schedule. "I can't worry too much about the house or the deck, so it suits my lifestyle perfectly. It looks the exact same today as the first day I got it, which is awesome!"
The 400 sq. ft. main house features living quarters on a solid foundation with high ceilings and plenty of windows, including custom garage-style doors, to let in a lot of natural light. This structure houses the kitchen, living room, bathroom and lofted bedroom. The AZEK L-shaped deck seamlessly connects this structure to Mevlana's soundproof, 160 sq. ft. studio. Built on wheels for touring and transportation, the home includes the recording studio, guest bedroom and practice area. It also has marine speakers built into the front exterior, cleverly concealed by the giant replica of an amplifier. Any electric instrument can plug into this "amp" which she also uses to relax on the deck while listening to tunes.
"We've filmed a music video on the deck and have had several concerts," says Mevlana, who has started a concert series in which musicians passing through perform on her deck. "This summer I will be hosting the Tiny Deck Concert series for kids. Local musicians from all genres will be performing on the deck to introduce children to different types of music."
While her low-maintenance home and deck suit her touring schedule, they also help her quickly develop a sense of community when she is home between concerts.
"When people come over, we enjoy sitting in the big chairs on the deck and have drinks. Every time we do, we end up meeting new neighbors who happen to be passing by," Mevlana explains. "Being on the deck has been a catalyst for becoming part of the neighborhood."
Along with being chosen #1 in Dwell Magazine, the house was constructed on the March 4, 2017 episode of "Tiny House Nation" entitled "The Amplified House."
Learn more about Asha Mevlana on her website https://www.ashamevlana.com and in Dwell's Top 20 List https://www.dwell.com/article/dwell-communitys-top-20-homes-of-2017-6a99faae. For more details about AZEK Decking, visit http://www.azek.com.
About AZEK® Building Products:
AZEK Building Products, a division of The AZEK® Company, is a leader in the development of premium, low-maintenance exterior building products. Available to a worldwide audience, our product lines span AZEK® Deck, Rail, Trim, Moulding, Porch, Pavers, and Adhesives, as well as capped wood composite decking and railing under the TimberTech® name. Both brands, synonymous with quality and innovation and made in America, lead their market areas by continually reinventing product lines and redefining entire product categories. For more information about AZEK, visit http://www.azek.com. For more information on TimberTech, visit http://www.timbertech.com.