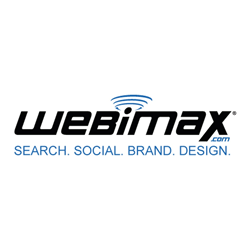 It's good for everybody to see the workplace, where their parents go to work and get a feel for what their parents do. We embrace it.
CAMDEN, N.J. (PRWEB) May 02, 2018
A typical Thursday was turned on its head when WebiMax joined employers across the country in celebrating Take Our Daughters And Sons To Work Day. Dozens of sons, daughters, nieces, nephews and friends came to 2 Aquarium Drive to see where the adults in their lives spend weekdays helping clients of the digital marketing agency achieve their online goals.
The annual gathering, which WebiMax CEO and founder Ken Wisnefski said is now in its eighth year, offers the opportunity for adults to spend a bit more quality time with the kids in their lives. Similarly, the children and teens who made the morning rush hour commute to Camden got a good idea of what going to work is all about.
"It's good for everybody to see the workplace, where their parents go to work and get a feel for what their parents do. We embrace it," said Wisnefski. "It's also a chance to spend time with kids that's a little different from the normal stuff. You can hopefully bond with them on a different level than by taking them to the playground."
According to the Take Our Daughters And Sons To Work Foundation, which has been in existence for nearly 25 years, the event that was held on Thursday, April 26th, 2018 is aimed at inspiring children to "envision a future for themselves in a workplace where everyone is welcomed." Foundation Executive Director Carolyn McKecuen said in a statement that the program hopes to inspire "young dreamers to dream big. Inspiring them to dream of themselves in boardrooms, city halls, union halls and concert halls. Inspiring them to believe in themselves as much as they believe in their superheroes."
For the little ones who came to WebiMax, inspiration and insight were certainly the orders of the day – followed by lunch at the Victor's Pub.
"He goes to work and works on his computer," said 5-year-old Aubrey Weleski when asked what her dad Justin does during the day. Accompanied during her interview by a sunglasses-wearing Philadelphia Phillies teddy bear named "Jack," she spent the latter half of the morning listening to music while seated next to dad. Weleski, a project manager for WebiMax who joined the company in 2017, said that this type of event is a great way to tack a few more hours onto the already limited time they share together. "You get 20 hours on the weekend and three hours per day."
Alivia Lugo, a 10-year-old fifth-grade student at James W. Lilley Elementary School in Sicklerville, said that she always looks forward to watching movies, drawing on the whiteboard and playing with Playdough during the day. "I know my aunt does money and stuff," Alivia said of her aunt, Erica Schultz, when asked what she thinks the company's controller does on a daily basis. While Alivia isn't sure of what she wants to do when she gets older, she's admittedly a fan of doing art and running track.
"The view is nice," said 13-year-old Alec Wisnefski, son of WebiMax's CEO, who has come to this annual event about a half-dozen times. "The office is pretty sweet," echoed Alec's friend, Brock Cook, a 12-year-old Ocean City resident who came along for the experience. Flynn DeVlieger, also of Ocean City, was excited to be in the home away from home for the Philadelphia 76ers, whose training facility relocated to Camden in fall 2016. "We're going to the finals. Ben Simmons: rookie of the year," a clearly confident DeVlieger said.
The latter point raised by DeVlieger is something the elder Wisnefski sees as point of pride for his company, which moved from Mount Laurel to Camden in 2014. Major players in the region, including Subaru, Lockheed Martin and American Water -- which is rising right next to WebiMax's main office -- have since made the jump to Camden.
"Everybody is just really blown away by looking at the skyline," said Wisnefski. "My guys have noticed all the progress and work being done."