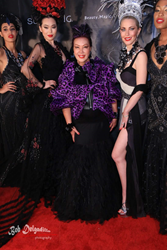 LOS ANGELES (PRWEB) May 02, 2018
Renowned celebrity fashion designer Sue Wong hosted a star-studded birthday celebration and fashion installation extravaganza at her legendary Hollywood palazzo, The Cedars. She announced her collaboration with screenwriter Mick Davis (Modigliani) to pen her biopic, to be made into a major Hollywood feature film. The exclusive celebration, themed "From MAO TO NOW", honored the designer's origins from a remote humble village in Maoist China, journeying to America as a young child and transforming herself into fashion's Empress of Style.
The evening featured a breathtaking fashion installation epitomizing the SUE WONG signature look, and the designer gave an exciting indication of what the future holds.
The special event was attended by the designer's close friends, collaborators, and entertainment luminaries such as actor Chris Noth (Sex and The City), actor-musician Ronn Moss (The Bold and The Beautiful, Player), actress Alice Amter (The Big Bang Theory), actress Sofia Milos (CSI: Miami, The Sopranos), actor Chris Browning (Sons of Anarchy), Emmy Award-winning producer and actor Vincent de Paul, actor Wes Ramsey (General Hospital), actor Charlie Glackin (Kill City), award-winning actress/director Jacqueline Murphy (The Admired), Emmy Award-winning Fox News anchor Christine Devine, rocker Chris Pitman (Guns N' Roses), and jazz musician Ray Parker Jr. of Ghostbusters fame. Hollywood major players included former BAFTA Chairman of the Board Nigel Daly (OBE and now Vice President of Screen International), Larry Namer, founder of E! Entertainment, and Robert Sun, president of the American-Chinese CEO Society. Additionally, socialites such as Jo Hilton and Gabrielle Williams Choo joined accomplished visionaries from the glamorous worlds of Fashion, Film, Art, Architecture, Music, and Photography in celebrating the designer's birthday and toasting her ground-breaking creative plans for the future.
The critically acclaimed designer, coined as "Every Woman's Couturière", expressed how she has many dreams yet to manifest. Being the quintessential Phoenix, Sue now finds herself poised on a threshold she calls her Third Phoenix Rising. The next most vibrant and exciting Third Chapter is the culmination of a stellar career, the embodiment of her well-respected, much loved epiphanous label of magnificent evening gowns and cocktail dresses, SUE WONG.
Sue Wong has taken fashion into never-before-seen heights of couture excellence in the commercial arena. The designer's ground-breaking acumen and high excellence in the pantheon of design affords her the luxury of applying collective artistic sensibilities to multiple genres. She continues to be the proven alchemist, expanding her artistic canvas into licensing modalities for Fashion, Beauty, Home, Lifestyle, Interiors and Hotels. Sue's core fashion signature style of haute glamour and romantic vintage aesthetics embodies an odyssey of seduction, sensuality, and femininity that invokes and awakens the Goddess within each woman. Sue is excited to embark on an International licensing odyssey of her exquisite brand, with a focus on her native roots - returning as the prodigal Daughter of China to establish her exquisite label.
The evening's extraordinary cultural and artistic convergence culled powerful, diverse musical performances that awakened the Rock Legacy embedded in the walls of Sue Wong's Hollywood landmark palace, The Cedars. The legends of The Cedars include Howard Hughes, Dennis Hopper, Jim Morrison of The Doors, Brian Jones of The Rolling Stones, Van Morrison, Jimi Hendrix, Lou Reed and The Velvet Underground, Bob Dylan, Andy Warhol and Johnny Depp, to mention a few. The evening's stellar performances included renowned musicians Ronn Moss, Chris Pitman, Jawn Star, blues-rock singer Shannan Rene Parks, Brit rocker Steve Cooke, international chanteuse Maria Elena Infantino, and the featured artist of the evening, Grammy Award-winning artist and composer, Omar Akram.
The special celebratory evening, the quintessential statement of haute glamour, featured a fashion odyssey saluting SUE WONG and celebrating the designer's birthday.
Spectacular headdresses by Atzi Designs and What a Betty complemented the gowns to complete SUE WONG's hypnotically glamorous vision. Carls Hollywood, Luis Martinez and Reyna Khalil transformed the SUE WONG models into seductive goddesses with beautiful hair and makeup. Jewels from Bobby Love and Sue Wong's private collection accentuated some of the dramatic looks.
Food and liquor sponsors include Anna De Codorniu Cava, Panthea Winery, Tulumba Mama Bakery, Pollo Inka, Rock Brands representing Bogart's Spirits, and Bandero Tequila. Special thanks to Oskar Rivera and Romulo Canizales for coordinating the sponsors, as well as to Michael Blum and Tim Klund for event consultation.
SUE WONG's alluring gowns harken back to Hollywood's Golden Era, epitomizing timeless glamour and magic. The exclusive SUE WONG Fashion Installation at her birthday celebration featured 35 signature creations: each an enduring, timeless statement from Sue's rare archives. The SUE WONG Collection delivers the essence of glamour for the present, reinventing it for 2018 and beyond.
Sue reiterates: "I have enjoyed my lifelong creative work. As one of my favorite teachers of the twentieth century, Joseph Campbell taught, 'Follow your Bliss'. My life has been my Art, and my Art is my life." Having originated from a remote humble village in Maoist China, Sue Wong journeyed to America as a young child and transformed herself into Fashion's Queen of Beads, a living paradigm of the American Dream.
North America Licensing Agent: Barry Diamond
‭(647) 284-1748‬
http://www.suewong.com
Facebook: http://www.Facebook.com/SueWongFashionPage
Instagram: @SueWongFashion
Twitter: @SueWongFashion