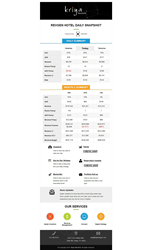 We work toward creating a world that is Easier, Smarter and Better, for our clients, for our employees and for ourselves.
DALLAS (PRWEB) May 03, 2018
Are your Spidey senses tingling? It's probably because last month, Kriya RevGEN, a US-based hotel revenue management service, technology, and digital marketing provider, launched their revolutionary hospitality technology and revenue management software platform, Spider Analytics by Kriya RevGEN.
Spider Analytics by Kriya RevGEN introduces something to the hospitality industry that has never been seen or done before. Combining reservation level data for multi-brand owners and operators, Spider Analytics presents daily stats and information to users in a beautiful new user interface while uncovering insights and revenue opportunities for all verticals of your hotel organization: operations, revenue management, sales and executives. With a proprietary forecasting algorithm, intelligent daily pricing recommendations, accurate and understandable market segmentation to uncover leads, VIP guest information, and more insightful daily emails and portfolio roll-ups, Spider Analytics takes hotel management to the next level.
To coincide with the launch of their new platform, Kriya RevGEN revamped their marketing via their new company website kriyarevgen.com while introducing a new corporate mantra of Easier. Smarter. Better. "In an era of complexity and new technology inundating us every day, we feel that what people really crave is a simpler lifestyle while improving their performance. With our new platform and existing services, we work toward creating a world that is Easier, Smarter and Better, for our clients, for our employees and for ourselves," states president and co-founder Bill Daviau. "With Spider Analytics as well as our 3 services, we feel like we can do just that, and as an obvious added benefit, generate more revenue for our hotels."
The three unique services offered by Kriya RevGEN are complimented by the Spider Analytics platform.

RM+ is their full-service revenue management for hire offering. With RM+, Kriya RevGEN analysts and revenue managers use the Spider Analytics platform to more effectively revenue manage their properties daily. Spider removes inefficiencies such as spending time pulling reports or preparing manual (and often inaccurate) forecast projections, Kriya RevGEN RMs spend their time efficiently revenue managing using data rather than guesswork.
Digital by Kriya RevGEN is their full-service channel review offering, optimizing each distribution channel with better and more accurate content, photos and promotions.
Connect by Kriya RevGEN is a website and digital marketing service which provides a more hands-on custom website and content creation for hotels and hotel management groups looking to expand their marketing beyond out of the box solutions.
Bill Daviau states, "All three services came about to provide owners and operators one efficient stop for all their revenue management and digital needs – another way to make their lives easier, smarter, and better." All services in conjunction have been known to provide a significant ROI for hotel partners - most hoteliers see as much as a 9% increase in RGI with Kriya RevGEN at the helm.
Kriya RevGEN was founded in 2013 by Bill Daviau and Raj and Nina Chudasama of Kriya Hotels as an answer to the need for a better way to revenue manage hotels – especially for multi-brand hotel owners. They currently support over 175 hotels across the country with offices in Irving, TX, Chicago, IL, and Ahmedabad, India. To learn how Kriya RevGEN can assist your hotel, contact us via our website kriyarevgen.com.