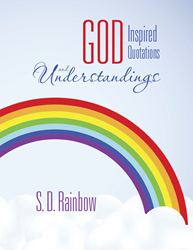 AUCKLAND, New Zealand (PRWEB) May 07, 2018
A New Zealand-based writer has released his debut volume of inspirational understandings that examines the depths of the human soul and provides readers with a spiritually nourishing tool for personal growth.
In "God Inspired Quotations and Understandings," author S. D. Rainbow focuses on the significance of human spirituality and how it relates to God's relationship with mankind and offers a positive and gentle resource that aims to empower readers with essential bits of wisdom.
"I was brought up with the Bible and with God's words to me in my heart and soul," Rainbow said. "This book is a product of that, and the quotations and understandings included in it were provided to me by and through Him."
"The layout is simple. The text is bold and clear, making this a book for literally all ages from children of about 8 or 10 to adults and even the elderly," a reviewer for the Pacific Book Review wrote about the book. "Good advice, well received, is the sign of an intelligent person, and taking these thoughts to heart will enrich the reader's moral fabric and humanity."
A short, faith-based collection of thoughts about life, spirituality and God's love, "God Inspired Quotations and Understandings" reflects on life's important questions about purpose, knowledge and the difference between good and evil.
"God Inspired Quotations and Understandings"
By S. D. Rainbow
ISBN: 978-1-4990-9844-0 (hardback); 978-1-4990-9843-3 (paperback); 978-1-4990-9842-6 (electronic)
Available through the Xlibris Online Bookstore, Barnes & Noble and Amazon
About the author
S. D. Rainbow is a bus driver and a member of the Howick RSA and Freemasonry. Born into a family of six brothers and sisters, Rainbow is a passionate believer in God and enjoys watching sports and crime shows. He currently resides in Auckland, New Zealand.
###
Review Copies & Interview Requests:
LAVIDGE – Phoenix
480-648-7557
dgrobmeier(at)lavidge.com
General Inquiries:
LAVIDGE – Phoenix
480-998-2600 x 584
mdriver(at)lavidge.com