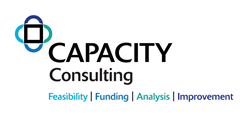 SULLIVAN COUNTY, N.Y. (PRWEB) May 10, 2018
Normally, the possibility of 2,280 new jobs is cause for celebration. In Sullivan County, however, local officials and business owners worried that the impending arrival of the Resorts World Catskills Casino in Monticello, NY, might cause a local labor shortage in the already-low-unemployment region. Enter Capacity Consulting, which studied the situation and discovered that those fears were unfounded. Through a detailed February 2017 workforce study, Capacity Consulting laid the community's concerns to rest and developed a list of concrete recommendations to reduce (if not eliminate) any negative economic impact.
The result? An evidence-backed report that demonstrated a positive potential economic impact gave officials the confidence to embrace the project and provided the community with the tools to prevent employee turnover – giving everyone a reason to welcome their new neighbor.
Marc Baez, CEO of Sullivan County Partnership for Economic Development, explains, "Sullivan County hired Capacity Consulting to allay fears and misconceptions that the casino and other large-scale new developments in Sullivan County would cannibalize the existing workforce. The reality is that not only did that not happen, but we have been able to increase our workforce to the largest that it's been in several decades."
Baez adds, "It is critical to do the research to get real data to help craft strategies for future economic development. Companies like Capacity Consulting help economic development agencies by providing that data."
The study showed that, contrary to expectations, the casino would actually draw more people into the workforce, bringing in more workers from neighboring regions and potentially creating incentives for discouraged workers to reenter the labor force.
The findings:

Workers in Sullivan County and the greater "labor shed" were willing to commute up to 43.24 minutes, allowing employers to draw on Orange County, Ulster County, and the region around the Pennsylvania border – a pool of 150,527 workers, more than twice Sullivan County's population.
The casino's 2,281 jobs represented 5.6% of the 40,998 people interested in applying for a job. The jobs created would account for a 1.5% increase in the labor shed area's 150,527 employees.
The casino was primarily recruiting for Zone 1 occupations that did not require much experience; these positions would potentially entice discouraged workers to reenter the workforce. Indeed, 32% of unemployed respondents indicated interest in a job.
In addition, the study found that taking five simple actions would significantly reduce the threat of a labor shortage:
Giving unemployed workers the opportunity to join an entry-level resort training curriculum that would fast-track them into jobs at the casino.
Partnering with local community colleges to create a resort management curriculum that would allow participants to work toward an associate or bachelor degree.
Developing an employee retention outreach program to help other employers in the area reduce the risk of positions becoming vacant.
Designing a general skills training program that would be available to all employees in the region.
Running a public relations campaign with the end goal of increasing community interest in hospitality and food service careers.
A contingent of Sullivan County organizations turned the study's recommendations into reality. Sullivan Workforce Development, Sullivan County Community College, Sullivan County Partnership for Economic Development, Sullivan County Chamber of Commerce, Sullivan County Visitors Association, and Sullivan County BOCES all participated in these efforts, resulting in the creation of thousands of jobs with minimal loss of labor among existing local businesses.
Ultimately, through the data that Capacity Consulting brought to light, Sullivan County was able to make a well-informed decision that brought new opportunities to thousands. By implementing Capacity Consulting's carefully tailored recommendations, Sullivan County also minimized the losses to local businesses, ensuring that there was enough labor to go around.
About Capacity Consulting
Capacity Consulting is in its 18th year with two main practice areas, startups and economic development. We help EDA's attract and retain economic drivers by understanding and solving their biggest challenges. We also help the EDA's clients with services like grant/incentive procurement and feasibility/business plans to help win approval of development. We help startups become successful as quickly as possible with planning, funding, and advice.