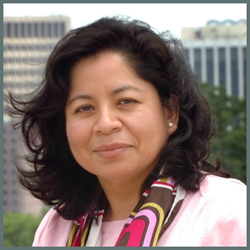 Guidos to Congressman McGovern: thank you for helping me out today. It's an honor to have you here, especially because of your work over the years in El Salvador.
WASHINGTON (PRWEB) May 02, 2018
U.S. Congressman Jim McGovern (D-Mass.), who served as senior advisor to Congressman Joe Moakley (D-Mass.), will lead a discussion on Rhina Guidos's new book "Rutilio Grande: A Table for All". The discussion will focus on Guido's new book, as well as the recent unrest in El Salvador and the role the United States can play in supporting human rights reforms in the region. Congressman McGovern will speak about his many years working to strengthen U.S. policy in the region as well as current priorities Congress must address like the Deferred Action for Childhood Arrivals (DACA) program as well as the Temporary Protected Status (TPS) program that impact immigrant families across the United States.

WHAT: U.S. Congressman McGovern Leads Discussion on Human Rights in Central America
WHERE: Center of Concern, 1627 K Street NW, Washington, D.C.
WHEN: Friday, May 4, 2018 at 3:00PM – 5:00PM
WHO: Congressman McGovern, Salvadoran-born author Rhina Guidos
Congressman McGovern became deeply engaged on human rights and the struggle for peace in El Salvador in the 1980s when he worked as a senior advisor and foreign policy aide for the late Rep. Joseph Moakley. In that capacity, McGovern led the investigation that resulted in the call to cut U.S. Government funding and training to the Salvadoran armed forces that coerced the Salvadoran government into a truce with the rebels that brought an end to the war in 1992.
By 1989, nearly 80,000 civilians had been killed, including six Jesuit priests gunned down in San Salvador. Congressman McGovern, like his former boss, Moakley, has made Central America and international human rights a chief focus of his work in Congress.
Salvadoran-born Rhina Guidos, Bureau Chief of Latin American Desk for Catholic News Service (CNS), wrote her book on Jesuit martyr Rutilio Grande, a close friend of Archbishop Oscar Romero of El Salvador. Both men were martyrs for the faith and social justice for the disenfranchised; their passion and martyrdom propelled McGovern to focus on social justice and Guidos to write about the Father Grande. Last month, while reporting from El Salvador, Guidos had the sad duty of writing about the murder of Father Walter Vasquez Jimenez, a priest who was travelling in a car to celebrate Mass on Holy Thursday (3/29/2018); the car he was riding in with other parishioners was blocked by armed and masked people who robbed the passengers of the car. They killed the priest. Church authorities in El Salvador do not understand what the slaying was meant to accomplish, nor do they know who committed this crime. Rather than celebrating the resurrection of Christ on Easter Sunday, worshippers prayerfully gathered to lay to rest their slain priest.
The Holy See has hinted that Father Rutilio Grande may advance to canonization and be declared a sainthood. Already, Archbishop Romero has been declared Blessed by the Church, and will be canonized by the Holy Father later in 2018. The discussion of Rhina's book with Congressman McGovern promises to be a compelling interchange on the complex problems that plague the people of El Salvador and the clergy who defend and minister to them.
Center Focus Live (CFL) is a regular program of the Center of Concern that seeks to engage key issues in the area of social justice. Begun in 2018, CFL has assembled large audiences of people concerned with the promotion of social justice, while working to eradicate regular transgressions of it. See coc.org for more details about CFL.
CENTER OF CONCERN (CoC) was founded in 1971 at the office of United Nations Secretary General U Thant by National Conference of Catholic Bishops General Secretary Joseph Bernardin and Jesuit Superior General Pedro Arrupe, S.J.
The Center has served in Washington, D.C., with a mission to research, educate, and advocate from Catholic social tradition to create a world where economic, political, and cultural systems promote sustainable flourishing of the global community. CoC is a 501(c)3 that envisions a global community that upholds basic human rights and human dignity, fosters just relationships, promotes sustainable livelihoods, and renews the earth.