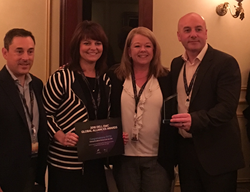 "By partnering with companies like Dell EMC, we are able to provide the technology and scalability customers need to successfully store and manage large amounts of data as they continue their digital transformation," said FNTS President Kim Whittaker
OMAHA, Neb. (PRWEB) May 02, 2018
First National Technology Solutions (FNTS) has received the 2018 Dell EMC Technical Excellence Partner of the Year Award from Dell EMC for achieving extraordinary results and demonstrating commitment to Dell EMC. This marks the first year FNTS has received this exclusive recognition.
The Technical Excellence Partner of the Year Award recognizes FNTS for its ongoing success in integrating and deploying Dell EMC's enterprise-class technology solutions.
"It's an honor to be recognized for our continued work with Dell EMC," said FNTS President, Kim Whittaker. "This further validates our position as a company that strives to build strong relationships with some of the most innovative technology partners in the industry. By partnering with companies like Dell EMC, we are able to provide the technology and scalability customers need to successfully store and manage large amounts of data as they continue their digital transformation."
The Dell EMC Annual Partner recognition program is intended to recognize partners for their extraordinary performance, support and ongoing commitment to Dell EMC. Partners are recognized across various award categories based on partner type/track, including growth, services, storage, server and client solutions.
About FNTS
With over 20 years in the managed IT services industry, First National Technology Solutions (FNTS) is a leading provider of flexible, customized hosted and remote managed services. Specializing in best of breed cloud technology and data center services, FNTS is dedicated to quality personal service, guaranteed uptime, and custom-built solutions that fit individual enterprises today, and align with their future strategic growth plans. Headquartered in Omaha, Nebraska, FNTS is a wholly owned subsidiary of one of the Midwest's largest privately held financial holding companies, First National of Nebraska. For more information on FNTS, visit http://www.fnts.com or follow us @FirstNationalTechnologySolutions.