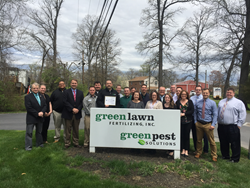 We all owe a tremendous amount of respect and gratitude to all the hard working members of our military. Supporting them in the workplace is the least I can do as an American.
WEST CHESTER, Pa. (PRWEB) May 04, 2018
Tim Clowney, Operations Manager at Green Pest Solutions was honored with a Patriot Award from the Employer Support of the Guard and Reserve (ESGR).
The Patriot Award is given to those that exemplify above and beyond support of employees serving in the National Guard or Army Reserve. Jose Velez, a technician at Green Pest Solutions and a proud member of the National Guard, felt that his manager, Tim Clowney upheld those lofty standards and more when he submitted Tim's nomination to the ESGR for the Patriot Award. "Tim really is everything that I could hope for in a Supervisor. He has been amazingly flexible with my schedule so that I can fullfil my duties with the Army reserve and maintain a good work/home balance." says Jose Velez.
Tim, a very modest person by nature, was certainly overwhelmed today when the company called a special meeting to recognize him for his award. Twenty-four members of the Green Pest Solutions team were on hand to see Tim receive his award from a member of the ESGR. Tim, as is his nature, turned the attention away from himself and onto the military.
"We all owe a tremendous amount of respect and gratitude to all the hard working members of our military. Supporting them in the workplace is the least I can do as an American. The active and former members of the military are among the best employees we have at Green Pest Solutions. Providing valuable team members like Jose whatever they need to be successful in their career here at Green Pest Solutions, and in their service to our country, is the most rewarding part of my job".
ESGR is a Department of Defense program that promotes cooperation and understanding between Reserve Component Service members and their civilian employers and assists in the resolution of conflicts arising from an employee's military commitment. They sent one of their proud volunteers, Jeff Hill, to present the award to Tim. Jeff was a former member of the Army reserve who did tours in Kuwait and Iraq. He shared a few of his war stories during a company luncheon held after the ceremony, which captured everyone's attention.
Green Pest Solutions and its parent company, Green Lawn Fertilizing have made a commitment to supporting the Military. The company has donated trucks to Cars for U.S. Troops, is an active participant in Project Evergreen's GreenCare for Troops program, which provides complimentary lawn and landscape services for the families of currently deployed military personnel, and post 9/11 disabled veterans with a service-connected disability, has donated to the Pennsylvania Department of Military and Veterans Affairs, and has been an active participant in Renewal and Remembrance at Arlington National Cemetery, sending 10+ team members for the past ten years.
Matt Jesson, President of Green Pest Solutions and Green Lawn Fertilizing, spoke about that commitment to the military at the awards ceremony. "I'm extremely proud of Tim, Jose and the entire company for their support of the military. Green Lawn Fertilizing and Green Pest Solutions has made a commitment to support our active military and veterans, whether that be through the volunteering events we have done, like Renewal and Remembrance, donations, or through our employee hiring practices."
Green Lawn Fertilizing / Green Pest Solutions has ten current employees with active or former military ties, and given how well they have performed their job functions, the company will continue to look to hire more of them. Their discipline, teamwork, professionalism, and pride in accomplishing a mission are all qualities that bode well in the military and in the lawn care and pest control industries.
# # #
Green Lawn Fertilizing and Green Pest Solutions is an independent lawn and pest control company that was founded in 2004. Under the leadership of Matt Jesson, President and Owner of Green Lawn Fertilizing / Green Pest Solutions, the company has grown to over 130 team members and over 80 service vehicles in its fleet. They have a mission to become the leader in the lawn and pest industry by providing superior customer service. Over the last several years, highly reputable publications have taken notice of the company succeeding in that mission. For six consecutive years the company has received the Inc. 5000 award for being recognized as one of the 5,000 fastest growing private companies in the America. In 2014, Green Pest Solutions was named "Best Exterminator" by Philadelphia Magazine and in 2017 they were named "Best Pest Control by Philly.com" In 2017, the company received the "Customer Service Excellence" Award by the Greater Philadelphia Chamber of Commerce.