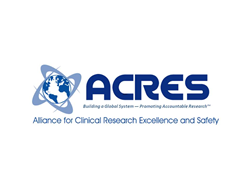 "ACRES important systems-engineering initiatives ...are now bearing fruit. To address the challenges of implementation we are ensuring that we have the expertise and experience necessary from every corner of the complex life sciences and healthcare ecosystem ..." noted Bahdri Srinivasan, Novartis
CAMBRIDGE, Mass. (PRWEB) May 02, 2018
The Alliance for Clinical Research Excellence and Safety (ACRES), a non-profit public-interest collaborative building a comprehensive integrated system to transform healthcare and research, announced today the expansion of its Board of Directors to better position the organization to respond to the many challenges and opportunities ahead as implementation of its system approach begins.
ACRES Board Chairman and Chief Executive Officer, Dr. Greg Koski, announced that four global leaders in the health sciences, representing both the business and non-profit sectors, have joined the existing board. New members include: Bahdri Srinivasan, Head, Global Operations Development, Novartis; Henry Levy, Chief Strategy Officer, Veeva Systems; Margaret Long, Principal, Willow Pointe Consulting Group; and Vidula Sukhatme, Founder and CEO, Global Cures. Each will serve renewable three-year terms on the Board.
They join the current group of leaders including Eve Slater, Ranga Krishnan, Robert Stewart, Briggs Morrison, Brendan Buckley, and Rebecca Kush, many of whom were founding members of the Board. Bringing together the current Board's experience with the records of Srinivasan on enterprise transformation, Levy on collaboration and standards, Long on stakeholder engagement and government advocacy and Sukhatme on non-profit medical research and entrepreneurship enhances the depth of ACRES leadership in this time of transition to implementation.
ACRES Chief Operating Officer, Matthew Whalen, PhD, underscored the strategic importance of ACRES' Board expansion, noting that current and future changes in the way medical discovery and testing are done are part of a much needed and ongoing transformation across the endeavor. "From the establishment of standards and processes for accreditation of high-performing sites of excellence, to the effective use of technologies, new and old, including blockchain protocols to enhance quality, safety and performance, ACRES allies have envisioned innovative ways to get this important job done in the interests of the public and patients, and now is the time to tap their collective expertise to build this new system, with the leadership and guidance of our Board."
Five years of coordinated multi-stakeholder collaboration are delivering critical results. In the months ahead, ACRES will unveil the first version of standards for the conduct of research at clinical sites. These standards have been developed in collaboration with London-based British Standards Institution (BSI) and underpin accreditation of research sites. Also being implemented is a new transactional blockchain protocol for enterprise-wide security, identity and access management developed by its exclusive partner, EXOCHAIN Corp, a Kennebunk, Maine-based, public benefits corporation. The expansion of the ACRES BlueCloud collaborative network developed by partner HealthCarePoint based in Austin, Texas continues to provide an essential shared interface for all stakeholders. Development of an innovative "Dynamic Accreditation™" process, capturing performance data in real-time, is underway involving several strategic allies, led by Dr. Michael Brown of Boston-based Acesis.
"ACRES important systems-engineering initiatives, whether focused on people, processes or technology, are now bearing fruit. To address the challenges of implementation we are ensuring that we have the expertise and experience necessary from every corner of the complex life sciences and healthcare ecosystem to get the job done—it is time to put it all together," noted Bahdri Srinivasan, Novartis, Member of the ACRES Board.
"ACRES is doing what others have only been talking about by working with other stakeholders to achieve shared goals and visions. I have devoted my time and my company to the ACRES effort because I want to make a difference, because I want to do good for patients, and I hope that others will do so also," summed up Bob Stewart, CEO EXOCHAIN, ACRES CTO and Member of the ACRES Board.
About ACRES
The Alliance for Clinical Research Excellence and Safety (ACRES), a non-profit alliance working in the public interest, brings together stakeholders spanning the clinical research ecosystem to build an open, integrated global system based in Accountable Research™. ACRES applies principles of systems and safety engineering, such as in transportation, communications and information technology.
If you would like more information about this topic, please contact Mary F. Tobin, PhD, Special Advisor to the President and CEO, at mtobin(at)acresglobal(dot)net.