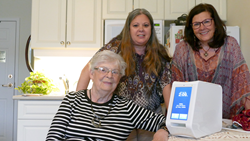 spencer provides our family with peace of mind and our mum maintains her independence and quality of life.
TORONTO (PRWEB) May 02, 2018
Supported by Catalyst's medication adherence ecosystem and Pack4U Ontario's fully automated central fill, United Pharma Group pharmacies are first in the province to offer the spencer in-home medication dispenser for at-home adherence and engagement.
No more pill boxes marked M-T-W-T-F-S-S or alarm clock reminders. The spencer in-home medication dispenser, which is small enough to sit on a kitchen countertop, signals when it's time to take medications and then dispenses exactly what is needed. Beyond simply dispensing pills or sending alerts, spencer connects the patient, caregiver, physician, and pharmacist to ensure everyone stays informed and works together. Clinicians can ask patients about side effects to potentially risky medications, then monitor and intervene if necessary, working with physicians to make adjustments that improve therapeutic outcomes, enhance quality of life, and avoid hazardous situations. And caregivers no longer have to worry about medication administration—an app lets them check in on their loved ones to see if pills were dispensed on time, dispensed late, or missed altogether.
spencer is meeting an increasing need. Consider this:

In Ontario, chronic diseases are the leading cause of death and disability. Almost 80% of Ontarians over the age of 45 have a chronic condition. Of those, approximately 70% suffer from two or more chronic conditions. (CCHS, 2003) Left untreated or managed poorly, chronic conditions can deteriorate and predispose individuals to other chronic conditions. In Ontario the economic burden of chronic disease is estimated to be 55% of total direct and indirect health costs. (http://www.health.gov.on.ca/en/pro/programs/cdpm/)
Having two or more chronic conditions often requires a multitude of medications to manage. (Commonwealth Fund International Health Policy Survey of Older Adults, 2014)
41% of seniors between the age of 65 and 79 take four or more medications. (Statistics Canada, 2014)
Not adhering to medication accounts for almost 70% of medication-related hospitalizations. That costs the Canadian healthcare system up to $9 billion per year. (ABN Life; The cost of non-adherence to prescribed medications, 2017)
With spencer, patients or their caregivers don't have to travel to the pharmacy to pick up refills. Medications are pre-sorted and packaged into refill cartridges by spencer-certified pharmacists, then delivered to the patient's home. The patient or caregiver simply loads the cartridge into spencer, which then dispenses the medication that is needed—when it's needed—while connecting everyone to each other, keeping everyone who needs to know, in the know.
That's how sisters JoAnna and Geri Calleja-Gera became spencer fans.
When the sisters would check in with their mother, Maria, who lives at Mountainview Residence in Georgetown, Ontario, the calls often focused on the coordination of her complex medication schedule, leaving little time for quality conversation.
"Although the prescriptions were in blister packs, there was always a chance of a mix-up," JoAnna says. "It reached a point where family visitors were always checking them to make sure she was adhering to the schedule."
Now that she has spencer, Maria's medications are delivered to her home in a self-contained refill that she simply places into the device, which beeps and flashes to indicate when it's time to take medication, then dispenses with a touch of the screen.
"The anxiety of whether Mum took her meds on the correct day at the appropriate time is no longer an issue, and we can also check on her adherence through the caregiver app, which we each have on our phones," JoAnna says. "spencer provides our family with peace of mind and our mum maintains her independence and quality of life."
Since its Canadian debut in fall 2017, spencer has been used with great success, including observations of increased medication adherence and better symptom management by people with Parkinson's Disease.
That same disease was also what led Apple-Hills Medical Pharmacy in East Mississauga, Ontario, to begin offering spencer, explains Kirsten Lazarz, registered pharmacy technician.
A customer with Parkinson's was having trouble managing his complex medication schedule without assistance from his wife, who felt like she was unable to leave for even a few hours, let alone take an overnight trip.
"I've heard nothing but great things from them," Lazarz says. "spencer is there for him, dispensing the right dose at the right time. And spencer is also there for her, putting her mind at ease about her husband's health."
Catalyst's adherence ecosystem features an end-to-end cost optimal solution allowing pharmacists to capture high-risk patients, and the data required to prove the impact on healthcare. Pack4U takes the adherence packaging burden away from pharmacies, allowing for active engagement with patients and the collection of relevant data.
According to Shane Bishop, CEO of Catalyst Healthcare and Founder of Pack4U, "Reimbursement for healthcare is shifting to support population health management. Empowered by new technologies and services, pharmacists will play a central role in managing the care of patients at home, greatly reducing system-wide costs. The spencer system, made available by United Pharma Group, and supported by the scalable technology backbone of Pack4U Ontario, means wide-spread access to spencer for improved patient care quality and outcomes, and the ability to collect the data required for true healthcare reform."
About United Pharma Group:
United Pharma Group is the fastest growing network of independent pharmacy owners across Canada. The reason for this continuous and consistent growth is stemming from our commitment to providing our members with the best possible economic and professional support available, while allowing them to maintain their true independence. Our strategy is very simple. Align our members with strategic partners in order to propel their Independent Pharmacy Businesses to the future. Learn more at http://www.unitedpharmagroup.ca
About Pack4U:
Pack4U is the only service for preparing spencer refills, giving pharmacists a cost-optimal solution to serve high-risk patients at home. By shifting focus from operations to patient-centered care, Pack4U is allowing pharmacists to be front and center for solving adherence via digital health tools and technologies such as spencer. Learn more at http://www.pack4u.com
About Catalyst Healthcare:
Catalyst Healthcare is an award-winning technology company dedicated to improving medication adherence and reducing the costs associated with non-adherence to healthcare systems. Catalyst provides adherence solutions that improve quality and efficiency at every point across the medication delivery ecosystem. Our goal is to ensure that everyone, regardless of care setting, has access to clinically managed digital health tools that lower costs and improve outcomes. Learn more at http://www.catalystrms.com and http://www.meetspencertoday.com
For more information or media opportunities, please contact:
Pack4U Ontario:
Teresa Pitre, General Manager
647-967-5411
teresa[dot]pitre[at]pack4u[dot]com
Catalyst Healthcare:
Kasumi Oda, VP of Marketing
(250) 980-4713
kasumi[dot]oda[at]catalystrms[dot]com