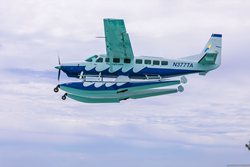 It is a great way to get the community excited about all forms of aviation and salute our military
(PRWEB) May 02, 2018
Veteran owned and operated Tropic Ocean Airways, the leading seaplane airline in the Eastern U.S., is set to open the Ford Lauderdale Air Show on May 5 and 6, 2018, carrying the United States Special Operations Command (USSOCOM) Parachute Team. The Para-Commandos will be parachuting from Tropic Ocean Airways' Cessna Grand Caravan EX seaplane as the National Anthem kicks off the show each day. The seaplane will depart from the airlines headquarters, Sheltair, a private FBO located at the Fort Lauderdale International Airport.
"Being born and raised in Broward County, I am honored to once again participate in the Fort Lauderdale Air Show with our team at Tropic Ocean Airways. It is a great way to get the community excited about all forms of aviation and salute our military" said Tropic Ocean Airways Founder and CEO and U.S. Navy veteran Rob Ceravolo. Ceravolo performed in the 2006 Fort Lauderdale Air Show flying the F-14D Tomcat and opened the Air Show in 2012 with a fly-by in a F-5N Tiger just after the National Anthem.
Tropic Ocean Airways' Cessna Grand Caravan EX seaplane has a factory modification allowing the USSOCOM Para-Commandos to safely exit the aircraft and stand on the float before making a calculated jump onto the Fort Lauderdale Beach drop zone.
The USSOCOM Parachute Team, called the Para-Commandos, is composed of volunteers from the United States Army, Navy, Air Force, Marines and U.S. government civilians who are assigned to Special Operations Command. They are selected for the team after a rigorous training program. They participate with the USSOCOM Parachute Team in addition to their regular duties, with training conducted during off duty time. For additional information on the SOCOM Para-Commandos, visit http://www.socom.mil/Pages/para-commandos.aspx.
Ceravolo, a U.S. Navy fighter pilot with 14-years of experience flying Navy fighters, was awarded two Air Medals for missions flying the F-14D Tomcat in support of Operation IRAQI FREEDOM. After two aircraft carrier deployments and a transition to the F-18E Super Hornet, Ceravolo became an Adversary Instructor in the F-5N in Key West, Florida, graduating from the Navy's prestigious TOPGUN Fighter Weapons School in Fallon, Nevada.In addition to flying, Ceravolo held a variety of leadership positions, including serving as a Coalition Coordination Officer for the United States Central Command under General James Mattis, now United States Security of Defense.
The 2018 Ford Lauderdale Air Show presented by the Greater Fort Lauderdale Convention and Visitors Bureau is taking place May 5 – 6, 2018, on Fort Lauderdale Beach and will feature some of the nation's most popular military jet demonstrations, parachute teams, civilian aerobatic acts and formation flight teams. Featured demonstrations will include F-18 Super Hornet, C-17 Globemaster III, USCG SAR, Quicksilver P-51, SOCOM Para-Commandos, Matt Chapman, F-4U Corsair, Lucas Oil Race Team, Geico Skytypers, Class of '45, and Mike Wiskus, among others. For complete details and tickets, visit Ford Lauderdale Air Show.
Known for offering travelers a superior, personalized, luxury flying experience, Tropic Ocean Airways provides customers short 30-minute pre-flight check-in times. Dedicated lounge staff greet guests and assist with baggage, complimentary valet parking, and check-in. Two professional pilots personally walk you through safety features and escort guests to the aircraft. Tropic Ocean Airways also provides a truly unique vantage point to experience the best scenery Florida and The Bahamas have to offer. All Tropic Ocean Airways' flights are operated by two pilot cockpit crews, and feature spacious air-conditioned cabins with club seating for eight passengers each with up to 30 pounds of baggage. For additional information on Tropic Ocean Airways' scheduled and charter seaplane services, visit http://www.flytropic.com.
About Tropic Ocean Airways:
Tropic Ocean Airways is a U.S. certificated commuter air carrier, founded by U.S. Navy TOPGUN fighter pilot Rob Ceravolo in 2009. The airline safely transported nearly 20,000 passengers in 2017 throughout destinations in Florida, the Northeast U.S., The Bahamas, and the Caribbean. Tropic Ocean Airways is the recipient of the highly-coveted ARGUS Gold rating for safety and enjoys a 5-star customer service rating on TripAdvisor. Ceravolo and his team of experienced aviation professionals have developed and implemented standard operating procedures borrowed from the U.S. military, which ensure the highest levels of safety and service aboard each flight.