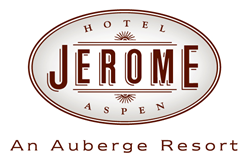 ASPEN, Colo. (PRWEB) May 02, 2018
This June, Hotel Jerome, Auberge Resorts Collection, which is on the National Register of Historic Places, will debut the results of an ambitious enhancement project that aims to marry Aspen's past and future by converting the 140-year-old Aspen Times printing house into a character-rich event space, injecting new life into Aspen's favorite outdoor living space and adding a seductive new underground bar – Bad Harriet – beneath the street-level former newspaper building.
Since it first opened its doors in 1889, the storied social hub has been the center of countless tales. From its days as a boarding house for miners, when horses trotted through the lobby, to infantrymen from the U.S. Army 10th Mountain Division frequenting J-Bar while training on Aspen Mountain, and decades later, when 1970s literary and counterculture icon Hunter S. Thompson made the hotel his local political campaign headquarters, Aspen's "crown jewel" has undeniably been a place where great stories are born and told. With this latest chapter, the Jerome will pay tribute to, and continue its social legacy, inviting guests to make their own mark with new compelling anecdotes.
"Hotel Jerome has been an Aspen landmark for over 125 years. Following the renovations in 2012, these new enhancements further honor the spirit and heritage of the hotel and the historic Aspen Times building," said Dan Friedkin, Chairman, Auberge Resorts Collection. "We are excited to welcome guests this summer to enjoy the next chapter in the history of this iconic hotel with its enhanced public spaces, new guest suites and the opening of a spirited new bar."
"Aspen has been an essential part of my life, with Jerome serving at the nucleus of it all," said Tony DiLucia, General Manager of Hotel Jerome, who has presided over the hotel for a span of 30 years. "Seeing the hotel serve as the setting for countless milestones for generations of families is incredibly heartwarming. Several of our guests came here as children, then celebrated their weddings within these walls, and now return with their little ones. Not many places can claim that special privilege. I'm sure our new spaces will be a welcome and exciting addition to the place we all hold so dear."
Time and again, Hotel Jerome has thoughtfully reinvented itself while remaining loyal to its revered history and authentic character, making it the stylish Rocky Mountain town's favorite gathering place and must-stay destination for more than 100 years. Now, with the help of Aspen-based architecture firm Rowland and Broughton, landscape architects Design Workshop and interior designer TAL Studio – the creative team behind the Jerome's award-winning 2012 redesign – the hotel will usher in charismatic new spaces that honor historic legacies through architectural preservation. The enhancements will comprise:

A conversion of the 140-year-old Aspen Times newspaper building
A sultry new underground bar and lounge – Bad Harriet, named after Jerome B. Wheeler's wife – that will complement the legendary J-Bar, lively Living Room bar and refined Prospect Restaurant
A transformation of Aspen's most desirable courtyard, including a redesigned outdoor swimming pool and terrace for summer delights or après ski relaxation
New three-bedroom residential-style suites with views of towering Aspen "Ajax" Mountain
The Dunaway Room – an intimate event space named after the former Aspen Times owner and editor
A Breath of Life for The Aspen Times Building
For nearly 140 years, The Aspen Times has documented the activities of the historic mining town and served as a vehicle to bring news of the outside world to Aspenites. In 1904, the paper moved its printing presses to The Aspen Times building, located next door to the Jerome. The meticulous renovation of the 1,423-square-foot structure, which was approved unanimously by the Aspen City Council, will preserve the original "Aspen Times" façade marquee and the majority of the original volume behind the storefront. The structure will serve as a social event space and have capacity for approximately 60 people.
Meet Bad Harriet
In the basement of the historic Aspen Times building will be Bad Harriet – a sexy new addition to the lively and discerning Aspen social scene. The underground bar, named after the wife of the hotel's original developer and proprietor, Jerome B. Wheeler, creates a cheeky narrative twist to Harriet's otherwise well-behaved persona. The moniker, which also honors and is inspired by trailblazing women of yesteryear and today, will further influence the venue's playfully mischievous personality and ambience – offering guests a hideaway to sip on richly crafted tipples and savor gourmet nosh aptly titled after strong women in history.
Aspen's New Outdoor Rendezvous
A longtime al fresco gathering place for local residents, the emerald garden – located between The Aspen Times building and hotel – will serve as the community's outdoor living room. Aspenites and hotel guests alike will be able to casually stroll in and out of the lush landscaped square, which is accessible from Main Street. As a beloved destination of the town for more than 100 years, Hotel Jerome grounds will continue to be open to anyone who wants to experience a little piece of the fabled property. The courtyard, however, will be a prime new space for private outdoor events such as summer weddings, seasonal food kiosks and more.
Chic Rocky Mountain Living at Hotel Jerome
The property's existing 93 rooms, suites and residences inventory will be supplemented with two three-bedroom, three-bathroom residential-style suites just behind The Aspen Times building. Each 2,000 square-foot, three-bedroom, three-bathroom suite resides on a private floor with space for entertaining, featuring a fireplace, queen sleeper sofa and well-appointed kitchen. Both suites will have balcony views facing Aspen "Ajax" Mountain. Rates will start at $3,250 per night and range up to $12,500, pending season and availability.
Dreaming of Revelry in The Dunaway Room
An additional sun-drenched venue for smaller gatherings will be on the ground level beneath the two new residential-style suites and open up onto the courtyard. The Dunaway Room, 734 square feet in size, named after Bil Dunaway who bought The Aspen Times in 1956 before going on to amass a local media empire, will be a go-to for intimate settings for momentous occasions.
Après All Day on the Pool Terrace
Just behind The Dunaway Room is the newly renovated outdoor pool terrace, along with two hot tubs. Pool guests will have access to a heated robe and towel cabinet, as well as to a "Pool-tender" – an attendant providing guests with food and beverage service, as well as other amenities. Poolside dining is available year-round, with the Skinny Dip menu offering hot toddies and gourmet broths in the winter, and boozy popsicles and snow cones for sun-splashed summer days.
###
About Auberge Resorts Collection
Auberge Resorts Collection owns and operates a portfolio of exceptional hotels, resorts, residences, and private clubs. While Auberge nurtures the individuality of each property, all share a crafted approach to luxury that is expressed through captivating design, exceptional cuisine and spas, and gracious yet unobtrusive service. Properties in the Auberge Resorts Collection include: Auberge du Soleil, Calistoga Ranch and Solage, Napa Valley; Esperanza and Chileno Bay, Los Cabos, Mexico; Hotel Jerome, Aspen; Malliouhana, Anguilla; Nanuku, Fiji; Hotel Madeline and Element 52, Telluride, Colorado; Hacienda AltaGracia, Costa Rica; Mukul, Guacalito, Nicaragua; and Auberge Beach Residences and Spa Fort Lauderdale (opening Summer 2018), Bishop's Lodge (opening Spring 2019), Lodge at Blue Sky, Utah (opening Spring 2019), Commodore Perry Estate, Austin (opening late 2019), and Susurros del Corazon, Punta de Mita, Mexico (opening late 2019), with several others in development. For more information about Auberge Resorts Collection, please visit http://www.aubergeresorts.com/. Follow Auberge Resorts Collection on Facebook at facebook.com/AubergeResorts and on Twitter and Instagram at @AubergeResorts.
About The Friedkin Group
The Friedkin Group is comprised of a consortium of automotive, hospitality, entertainment, golf and adventure companies. These organizations include: Gulf States Toyota, GSFSGroup, GSM, US AutoLogistics, Ascent Automotive Group, Auberge Resorts Collection, Imperative Entertainment, 30WEST, Diamond Creek Golf Club, Congaree and Legendary Adventures. The Friedkin Group is led by Chairman and CEO Dan Friedkin. For more information, visit http://www.friedkin.com.
MEDIA CONTACT:
Daphne Barahona / Miriam Stevens
Murphy O'Brien Public Relations
310-586-7196
dbarahona@murphyobrien.com
mstevens@murphyobrien.com