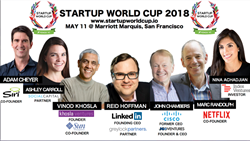 SAN JOSE, Calif. (PRWEB) May 02, 2018
Startup World Cup, a global conference and startup pitch competition offering $1,000,000 investment prize, is announcing the agenda for the Grand Finale event in San Francisco on May 11th, 2018 at the San Francisco Marriott Marquis. This will be the largest global startup gathering with investors and entrepreneurs joining from more than 27 countries.
This year's Grand Finale speakers include Reid Hoffman (Founding CEO of LinkedIn & Partner of Greylock Ventures), Vinod Khosla (Founder of Khosla Ventures; Co-Founder of Sun Microsystems), John Chambers (Chairman Emeritus of Cisco; Founder & CEO of JC2 Ventures), Marc Randolph (Co-Founder of Netflix), Adam Cheyer (Co-Founder of Siri), Ron Conway (Founder & Co-Managing Partner of SV Angel), Jay Vijayan (Former CIO of Tesla), Chris Yeh (General Partner of Wasabi Ventures).
Following the speaker sessions, regional winning startups from 27 countries will battle for the $1,000,000 investment prize. Geoff Ralston (Y Combinator), Ashley Carroll (Social Capital), Rashmi Gopinath (Microsoft Ventures), Adeo Ressi (the Founder Institute), Sanjig Dang (Intel Capital), Nina Achadjian (Index Ventures), and Alireza Masrour (Plug and Play Ventures) will be on the distinguished judging panel.
Below is the finalized agenda for Startup World Cup 2018 Grand Finale.

9:00 – 10:00 Registration & Coffee
10:00 – 10:15 Startup World Cup Grand Finale Opening
10:15 – 10:55 Fireside Chat with Vinod Khosla
10:55 – 11:25 Fireside Chat with Ron Conway
11:25 – 12:05 Fireside Chat with John Chambers
12:05 – 1:00 Lunch
1:00 – 1:50 Keynote Speech & Fireside Chat with Marc Randolph
1:50 – 2:20 Fireside Chat with Jay Vijayan
2:20 – 3:00 Fireside Chat with Adam Cheyer
3:00 – 3:10 Entertainment
3:10 – 3:20 Guest Speakers
3:20 – 4:00 Fireside Chat with Reid Hoffman & Chris Yeh
4:00 – 6:00 Startup World Cup Final Pitch Competition
"Startup World Cup 2018 is going to be the largest global networking opportunity in Silicon Valley," said Anis Uzzaman, Chairman of Startup World Cup, and General Partner & CEO of Fenox Venture Capital, the main organizer of Startup World Cup. "We have startup communities from 27 countries coming together to create this largest global network. We are looking forward to welcoming all parties to be a part of this global initiative."
Register to attend the event: https://startupworldcup2018.eventbrite.com
For any inquiries regarding Startup World Cup, please contact:
Janice Mok
Startup World Cup
info(at)startupworldcup(dot)io