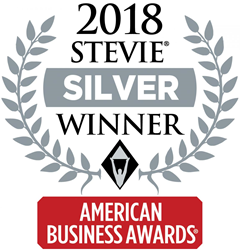 CARY, N.C. (PRWEB) May 02, 2018
Samanage, the service success company, today announced that Founder and CEO Doron Gordon has been named the winner of a Silver Stevie® Award in the Entrepreneur of the Year category in the 16th Annual American Business Awards®.
The most reviewed and highest rated service management solution, Samanage provides a service platform that enables organizations to redefine the employee service experience and deliver services in seamless, smart and meaningful ways. With over 2.5 million users and thousands of customers in markets like technology, healthcare, government and education, Samanage provides real business value by reimagining how departments deliver employee services, while managing and automating a diverse range of manual business processes that empower employees to be more productive and being the best at what they do.
Recognized by the judges for delivering "amazing growth in a competitive market," Gordon has been named Silver winner in the Entrepreneur of the Year: Computer Software category, for companies with up to 500 employees. An early adopter of cloud technologies, Gordon is laser focused on using innovative technologies to streamline employees' work and free them to focus on critical business objectives. He recently led Samanage's development and launch of the company's AI-powered service management capabilities. This is in perfect alignment with the company's mission to build innovative solutions that empower enterprises to manage and automate manual business processes such as IT ticketing, employee onboarding or facilities power outages -- all from a single service management platform.
More than 3,700 nominations from organizations of all sizes and in virtually every industry were submitted this year for consideration for a Stevie Award in a wide range of categories, including Startup of the Year, Executive of the Year, Best New Product or Service of the Year, Marketing Campaign of the Year, Live Event of the Year, and App of the Year, among others.
More than 200 professionals worldwide participated in the judging process to select this year's Stevie Award winners.
"The nominations submitted for The 2018 American Business Awards were outstanding. The competition was intense, and those recognized as Stevie Award winners should be immensely proud of this accomplishment," said Michael Gallagher, president and founder of the Stevie Awards.
"To be recognized as a Silver winner in the Stevie Awards' Entrepreneur of the Year category is a great personal honor, and more importantly, a testament to the Samanage team's unrelenting drive and commitment to deliver service success and help companies better service their employees," said Doron Gordon, Founder and CEO of Samanage. "An entrepreneur at heart, I'm proud to help inspire and support the Samanage team as we continue our vision to deliver an employee service management platform that drives productivity across departments while helping organizations maximize the potential from their people."
Details about The American Business Awards and the list of 2018 Stevie winners are available at http://www.StevieAwards.com/ABA.
For more information about the Samanage Service Platform, please visit: https://www.samanage.com/service-desk/
About Samanage
Samanage, the Service Success Company, is the most reviewed and highest rated IT service desk vendor. Our team is dedicated to helping customers deliver a better and smarter service experience to their employees. Samanage is smart, easy to use, and inspires customers, small to large, to simplify complex tasks and automate services across an organization. With over 1,800 customers around the world, our software can be tailored to meet specific service needs.
To learn more about Samanage, please visit http://www.samanage.com or call 1-888-250-8971.
About the Stevie Awards
Stevie Awards are conferred in seven programs: the Asia-Pacific Stevie Awards, the German Stevie Awards, The American Business Awards®, The International Business Awards®, the Stevie Awards for Women in Business, the Stevie Awards for Great Employers, and the Stevie Awards for Sales & Customer Service. Stevie Awards competitions receive more than 10,000 entries each year from organizations in more than 60 nations. Honoring organizations of all types and sizes and the people behind them, the Stevies recognize outstanding performances in the workplace worldwide. Learn more about the Stevie Awards at http://www.StevieAwards.com.