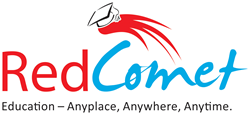 PROSSER, Wash. (PRWEB) May 02, 2018
Red Comet, an accredited, self-paced, online school, is pleased to announce the launch of a new partnership with Rubypixels to assist in students' learning by enriching learning with contextualized on-topic videos, concept-maps & questions. Rubypixels' product PiRuby personalizes each individual students' learning by finding relevant videos and content that match with the rigor of content and the student's learning abilities.
About Red Comet
Red Comet is a Fully Accredited (NWAC, AdvancED) organization that has been offering online courses for credit since 1999. Students have over 175 courses to choose from. Many of these courses are also approved by the NCAA organization. In the State of Washington, the Office of Superintendent of Public Instruction (OSPI) has approved the Red Comet program as a "Multi-District Online Provider," "Online Course Provider," and "Online School Program." In a statewide survey, Red Comet received high ratings for student satisfaction. Students use the Red Comet online program for original credit, credit retrieval, and credit recovery.
About Rubypixels
Rubypixels Private Limited (http://www.piruby.com) is a Company focused on educational technology and based out of Bangalore, India. The company is focused on the K-12 market segment with special emphasis on subjects such as Physics, Chemistry, Biology, Mathematics, Business, Accounting and Economics. The product PiRuby combines emerging technologies such as Augmented Reality, Natural Language Processing (NLP), Machine Learning (ML) and Bigdata Analystics to deliver superior educational experiences for both students and teachers.
For Immediate Release
Contact Information:
Ms. Sapna Ganeshan
President,
Red Comet