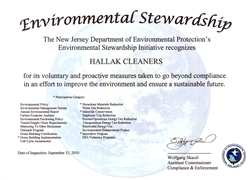 NEW YORK (PRWEB) May 08, 2018
Hallak Cleaners is very excited to announce their annual Earth Day tote bag giveaway was another success. Once again, both of their stores located in Manhattan and Bergen County took part in passing out branded reusable tote bags.
The bright green totes are to symbolize the importance of everyone doing their part. With slight changes in one's day to day routines, people can make a difference. From April 19th through April 21st this year, customers were greeted with a bag to take home. Hallak's Manhattan storefront located at 1232 Second Avenue also had an outside greeter handing out the freebie to passerby's.
Hallak takes their responsibility to the environment and the surrounding communities very seriously. Along with organic-based solvents, the company goes a step further by utilizing various 'green' operations. Additional environmentally safe practices include:

State of the art filtering and distillation equipment
Meets and exceeds clean air and safe water standards
Recycles paper and cardboard waste
Plastic hanger recyclable program
Energy efficient lighting throughout facilities