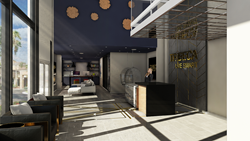 Visitors can use TouchTour to search through floor plans across the building's six stories.
ST. LOUIS (PRWEB) May 07, 2018
Tribeca (tribeca-stl.com) is a brand new 160-unit smart tech luxury apartment complex in St. Louis. Nestled in between the campuses of SLU and Washington University, the building is receiving national acclaim for its groundbreaking design focused on fun, tech, and security - while remaining green and eco-friendly. The developers' emphasis on exceptional design extended to their choice of which emerging technologies to showcase. Resident comforts include two amenities not seen in any building in the Midwest - a swanky lounge with its own self-serve beer and wine tap system, and even a robotic butler capable of special deliveries.
The digital presentation is key to Tribeca's image as St. Louis's premier luxury and tech-savvy community, as it's one of the first things that visitors see when they visit the property. Even before prospective residents sign up for a lease, they're greeted by a variety of visualization products by Denver-based tech company Engrain. In the lobby, Tribeca's TouchTour is presented on a 70" touchscreen panel. Visitors can use it to search through floor plans across the building's six stories, find nearby shopping and dining options, and browse the community's many amenities. Photo galleries feature rendered architect images of common spaces and apartment interiors, so that even before Tribeca officially opened, visitors could gain a virtual understanding of what to expect. Even now that the first two floors have moved in, the TouchTour is sure to continue to supplement the Tribeca property tour in a unique way.
Tribeca's now-famous mailroom features another large flat screen displaying TouchTour Connect, which shows residents local weather, traffic, and community announcements. This software is also displayed on monitors throughout the building, from the fitness center to the pool deck and lounge.
Further inquiries can be sent to pr@tribeca-stl.com.