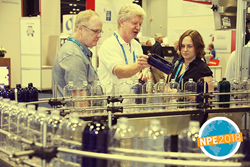 GRAND ISLAND, N.Y. (PRWEB) May 02, 2018
NRD, LLC will showcase its latest corona technology and products for all industrial solutions at NPE2018: The Plastics Show-the largest plastics conference and trade show in the world, featuring more than 65,000 buyers from across the globe and more than 1 million square feet of exhibit space-May 7-11, 2018 at Orange County Convention Center in Orlando.
Plastics environments are highly charged areas and can be, potentially, hazardous to employees, posing shock risks when not properly managed. Electrostatic discharge can also make materials unwieldy and difficult to handle during the manufacturing process. NRD provides alpha and corona custom solutions to help manage static and contamination to ensure your process runs smoothly.
NRD will be providing a live demonstration application of its corona Ionizing Bar, Model 6100ER, on a conveyer belt. This will show how NRD's products significantly knock down the static charge that interferes with products and machinery during the manufacturing process. Attendees can also consults with NRD representatives regarding unique solutions to their individual static problems while visiting NRD's booth, #W4953.
Register for a complimentary pass to NPE2018 using NRD's unique registration link: http://www.npeguestpass.org/45883. For more information about NPE2018: http://www.npe.org.
###
About NRD
For over 40 years, NRD has been a global supplier of devices that eliminate electrostatic discharge in environments such as R&D, laboratory, technology, industrial applications, and automotive, as well as specialty sources for ECD, IMS, and more. They service each industry and static concern uniquely with a customer-first approach and are the only company in the world that offers both alpha and corona static control solutions.
For more information about NRD, visit https://www.nrdstaticcontrol.com/
About NPE2018: The Plastics Show
Recognized as the world's largest plastics trade show and conference, NPE2018 brings together all industry sectors, including vertical and peripheral markets, end markets, brand owners and recyclers. Held every three years, NPE attracts more than 65,000 plastics professionals and features industry-focused education and leading suppliers of emerging technologies, equipment and materials for every phase of plastics processing, all in 1 million square feet of exhibit space.
Building on its most successful show in 2015, held in Orlando, Florida, NPE2018 anticipates even greater participation from up and down the global plastics supply chain when it returns to Orlando next week, May 7th through May 11th. NPE is produced by Plastics Industry Association (PLASTICS) and is the only international plastics event produced by the industry for the industry. For more information, or to register: http://www.npe.org.
About The Plastics Industry Association
The Plastics Industry Association (PLASTICS), formerly SPI, is the only organization that supports the entire plastics supply chain, representing nearly one million workers in the $418 billion U.S. industry. Since 1937, PLASTICS has been working to make its members and the industry more globally competitive while advancing recycling and sustainability. To learn more about PLASTICS' education initiatives, industry-leading insights and events, networking opportunities and policy advocacy, and North America's largest plastics trade show, NPE2018: The Plastics Show, visit http://www.plasticsindustry.org. Connect with PLASTICS on Twitter, Facebook and LinkedIn.
###