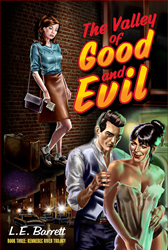 "Honey, you're the last person I expected to see here."
BANGOR, Maine (PRWEB) May 04, 2018
Author L E Barrett's historical pulp fiction trilogy grinds, lurches and leaps to a dramatic conclusion. The Valley of Good and Evil, the last book in the Kennebec River Trilogy, picks up the tale of a small city, Hallowell, Maine in the early 1960s, as the citizens combat an evil beyond anyone's comprehension. Like the first two books, The Boys from Joppa and Dummers Lane the book is a direct link to classic pulp fiction. The author connects his reader to a place, a people and events that are universal and compelling.
Once again, Dip. Phil, Chief Buck, Connie, Martha, Rita, Big Robbie, Bunny, Emma, and the other unforgettable characters challenge an unthinkable evil. Like the early works of Steinbeck and Doctorow the streetwise characters transform the reader's notion of humanity and community. The Valley of Good and Evil like the earlier books is also sexy, entertaining, funny, mysterious, outrageous and earthy. L. E. Barrett says, "I write stories designed to entertain and to draw my readers into a world that is familiar and still strange at the same time. I want my readers to feel the same excitement that I feel when I am writing the book. The reader is always in my thoughts."
The Kennebec River Trilogy is a throwback to the trashy novels of the 1940s to 1960s where women craved love, men were tough, and violence was a business opportunity. Like the first two books in The Kennebec River Trilogy (The Boys from Joppa and Dummers Lane), The Valley of Good and Evil is a quirky slice of adult fiction that provides the reader with an enjoyable read. The kind of novel and trilogy you can't wait to tell your friends about or to discuss with others. The Valley of Good and Evil is now available online through book outlets as a paperback, eBook, or it can be ordered by your favorite bookstore.