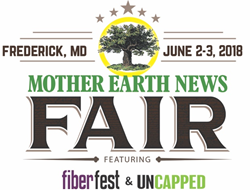 FREDERICK, Md. (PRWEB) May 03, 2018
This June, the nation's largest sustainability event will debut in Maryland as The Mother Earth News Fair comes to the city of Frederick.
Fair-goers can sample earth-friendly and homesteading products and services from more than 200 vendors and get access to 100-plus workshops as they learn to churn butter, cultivate mushrooms, raise backyard chickens, master the art of kimchi, build a pizza oven from mud, grow unusual fruit, make their own cheese and much more.
Produced by Mother Earth News, the world's longest-running self-reliance magazine, and The Frederick News-Post, the Fair will be held at The Frederick Fairgrounds, 797 E. Patrick St., Frederick, Maryland, Saturday, June 2 from 9 a.m. to 6 p.m. and Sunday, June 3, from 9 a.m. to 5 p.m.
Speakers will include some of the country's most forward-thinking homesteaders, environmentalists and farmers, including Joel Salatin. Salatin owns Polyface Farm in Virginia, arguably the nation's most famous farm since it was profiled in the New York Times best-seller "The Omnivore's Dilemma" and two subsequent documentaries, "Food, Inc." and "Fresh."
Cyndi Ball of the National Ladies Homestead Gathering will discuss simple planning tools for homesteading.
Want "The Scoop on Poop?" Dan Chiras, director of The Evergreen Institute in east-central Missouri, will explain why we should compost human waste and how to do it safely.
Fiber arts, craft beverages and more
The Mother Earth News Fair will also include Fiber Fest, with dozens of fiber-product vendors and professionals ready to help knitters and crocheters nurture their skills and purchase the right materials for their projects.
Fair-goers won't want to miss enthusiastic sheep herding demonstrations and the Saturday fleece sale.
This child-friendly event will have a large kids' zone with activities and entertainment, plus a comfortable area for moms to nurse.
There's a little something for adults only, too. In the UnCapped building at the Mother Earth News Fair, local brewers and distillers will offer samples and talk about their craft. Those 21 or older can enjoy cold beer in the beer tent and buy bottles to-go from the breweries and distilleries.
Discounted passes available now
On sale now, weekend passes are $25 and single-day passes are $20. Passes at the gate are $30 for the weekend and $25 for a day.
Students who present a college ID at the gate may buy a single-day pass for $10. These are only available day-of at the Fair.
Passes include access to all areas of the Fair, with the exception of some special breakout workshops. Children 17 or under get in free.
To purchase, go to FrederickNewsPost.com/MotherEarth, call toll-free 800-234-3368 or stop by Common Market to buy in person.
Thank you to our sponsors
We wish to thank the following sponsors who have made it possible for us to bring the Mother Earth News Fair to Frederick:
Common Market
Visit Frederick
Woodbine Equipment & Supply
City of Frederick Department of Economic Development
Frederick County Office of Economic Development
Lilypons Water Gardens
Riverside Midwifery, LLC
Plow & Hearth
Follow Mother Earth News Fair:
Facebook: http://www.facebook.com/pages/MOTHER-EARTH-NEWS-FAIR/330690407009
Twitter: @motherearthfair
Website: http://www.MotherEarthNewsFair.com
Updates via newsletter: http://www.MotherEarthNews.com/fairupdates