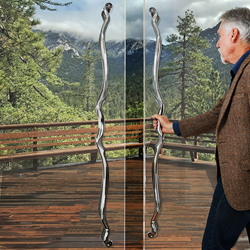 "when you can have a beautiful door handle why would you buy a boring one? "
(PRWEB) May 09, 2018
As the trend for entry statement door handles continues to grow, especially in the hospitality sector,Martin Pierce Hardware is meeting this challenge with their Ergo collection of entry door pulls and grips.
Over the last decade the company has collaborated with several national and international design groups including Gensler, Rockwell Group and MHA in designing large handles for hospitality resorts and hotels in Singapore, Nassau and most recently in Houston at the Post Oak Hotel. In response to this robust trend, Martin Pierce founder and sole designer of Martin Pierce Hardware has designed Mega Ergo a new door handle styled along the lines of its predecessor, Epic Ergo but grander in scale at a height of 54". Pierce is planning to introduce other Mega additions to his Morphic and Hedgerow collections later this year.
The Ergo collection was a natural choice as it was suited both stylistically and practically to meet the challenges created by this scale of handle. On a stylistic front, Pierce felt that "the fluid undulating contours of the Epic handle could easily and organically be pulled and stretched from 35" to 54" without distorting the aesthetic of the design". One concern Pierce had in making a long grip was creating a piece that would be small enough in diameter to meet the needs of those with disabilities but not so small as to appear ungainly. The Mega handle clearly achieves this and is a refreshing artistic departure from the industry norm of plain tubular grips that we see all too frequently on many hotel lobby doors.
The company is based in Los Angeles where all their work is created using the lost wax method of casting, an old school approach where highly skilled artisans pour and then "chase" steel castings to create fine flawless pieces.
When it comes to a new design, Martin Pierce's level of involvement with the process is total. Being the designer and mold maker means that he can design unusual artistic pieces and then create multiple molds that will accommodate the intricacies and undercuts of his pattern. In most larger hardware companies these 2 areas would occupy whole departments with countless people which is why the hardware designs of Martin Pierce Hardware are so unique and distinctive and suited for use as statement pieces. As Martin Pierce less tactfully puts it, "when you can have a beautiful door handle why would you buy a boring one? " Part of the answer is price as Pierce's hardware is expensive but for such uncommon beauty well worth the cost especially if your goal is an entry statement of lasting style. You can see the entire range of door handles at;
http://www.martinpierce.com