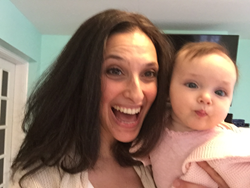 Take a perfect hands-free selfie with Selfie Stick-It!
BOCA RATON, Fla. (PRWEB) May 03, 2018
Mothers are sentimental by nature; they adore gifts that are symbolic of love and feature relationship. This Mother's Day, touch your Mother's heart with a special gift that shows your appreciation for treasured memories.
Combining technology with tradition the Selfie Stick-It® provides families a fun, creative opportunity to celebrate their bond through photography and video footage. Never miss out on another moment stuck behind the camera. Selfie Stick-It is your own personal paparazzi! Simply attach Selfie Stick-It to your smartphone and instantly convert any space into a photo studio.
Launched in Spring of 2018, Selfie Stick-It is a wireless, Bluetooth remote controlled, stickable phone mount sure to be enjoyed by the whole family for years to come. Adaptable for use with any smartphone, Selfie Stick-It works on all surfaces – wood, glass, mirrors, and more. Personalized as it is available in multiple colours. Selfie Stick-It delivers flexibility and portability in a compact, light-weight (less than 1 ounce) package. Perpetually refresh the sticky gel by simply rinsing with water and air drying.
Selfie Stick-It holds your phone so you can be in the scene too!
Memories last forever, but an image is worth a thousand words. This Mother's Day give your mom a smile she won't forget with Selfie Stick-It. Getting in the Picture Just Got Easier!
ABOUT SELFIE STICK-IT From the creators of the original Selfie- Stick, Fromm Works Inc. the parent company of Quik Pod and Selfie Stick-It, has been a trusted leader in wireless tripod and monopod phone accessories since 2006. Fromm Works Inc. proudly offer the lowest possible prices for our camera accessories while maintaining our commitment to excellent customer care and professional results. At less than $20 Selfie Stick-It is available for purchase through Amazon and http://www.SelfieStickIt.com