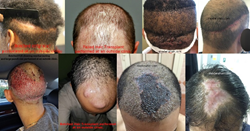 You should be cautious about practices offering FUE surgery with the Neograft, Smart Graft, or Artas Robot as many of these clinics are offering hair restoration surgery as a side practice allowing assistants to operate the devices and perform an illegal surgery
BEVERLY HILLS, Calif. (PRWEB) May 07, 2018
Recently, we've seen an accelerated increase in Hair Restoration Physicians preying on vulnerable patients. Reports have exposed clinics in the Las Vegas and San Diego region in which physicians are bringing in assistants, allowing them to illegally perform FUE and FUT surgery under the credentials of licensed doctors. At Modena Hair Restoration, Orange County Hair Transplant Surgeon Dr. Amir Yazdan has had a great deal of patients coming from San Diego and Las Vegas in hopes to repair their botched hair transplant surgery at a considerably higher rate.
ISHRS (International Society of Hair Restoration Surgery) reports hair restoration surgery is at an all-time high with almost 600,000 surgical hair restoration procedures performed in 2016. This is a 60% increase in just two years.
Patients seeking a hair transplant surgery should take drastic precautions and thoroughly research whether their hair restoration physician is an experienced and reputable surgeon and that all aspects of the surgery – from start to finish, are in fact being performed by the doctor and not a technician. "You should be cautious about practices offering FUE surgery with the Neograft, Smart Graft, or Artas Robot as many of these clinics are offering hair restoration surgery as a side practice allowing assistants to operate the devices and perform an illegal surgery," says Dr. Amir Yazdan M.D. Chief Surgeon at Modena Hair Transplant Institute.
Warnings from the ISHRS caution individuals that may be buying unsafe, illegal procedures performed by technicians and assistants, not qualified surgeons. In recent years, an alert from the ISHRS shed light on the growing trend or epidemic, rather, of illegal hair restoration practices and the severe ramifications it could hold for unsuspecting consumers.
Patients are being lured by attractive and cost-effective hair transplant surgeries, but then there's the classic "bait and switch" imitation happening where the actual surgery is illegally being performed. Doctors are stepping in momentarily, only to allow their technicians to hijack nearly the entire surgical operation leading to countless risks and complications including infection, severe scarring, cysts, low graft survival rate, failure of regrowth etc. This is a dangersome practice and places patients at serious risk. Unfortunately, this problem isn't unique to Las Vegas, it is growing and effecting parts of the United States as well.
Although hair transplants are advertised as minimally invasive, would you allow a physician's unlicensed technician perform your eye surgery? There is no arguing that your hair restoration surgery should be any different. Your hair restoration surgeon should be involved in the entire process and much of the work should never be delegated to technicians as they do not have the skill nor the qualifications to perform the surgery themselves.
"No one should think that even a minor cosmetic surgery isn't surgery, as medical decisions need to be made constantly during cosmetic procedures and some type of medication is administered to the patient that needs to be monitored and, in some cases, adjusted during surgery," says the ISHRS in a media release.
More information regarding wariness and safety measures can be found at Modena Hair Transplant Institute where they specialize in both FUE and FUT Strip Hair Transplant Surgery as well as the ISHRS.