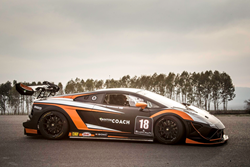 BOSTON (PRWEB) May 10, 2018
Boston Corporate Coach, rated the number-one Boston-based coach service and industry leader in chauffeured transportation and coach services worldwide, continues to show support for the US RaceTronics team via sponsorship of a Lamborghini race car competing in the Lamborghini Blancpain Super Trofeo North American Series. The car was celebrated as champion during the first year of the Super Trofeo Series in 2013, in addition to being a recipient of numerous additional awards, and has become a favorite of Boston Corporate Coach's own CEO.
US RaceTronics is a Southern California-based racing team involved with the Lamborghini Blancpain Super Trofeo North America Series, a collection of races held alongside the prestigious IMSA WeatherTech SportsCar Championship. More than 20 cars compete on popular circuits such as the Mazda Raceway Laguna Seca in California and the Circuit of the Americas in Texas, ensuring exciting action for spectators and competitors alike, with North America hosting the Lamborghini Blancpain Super Trofeo World Final in 2015 at Sebring Circuit.
Founded by former Dorricott Racing Team manager Shane Seneviratine and based in Buttonwillow, California, US RaceTronics has enjoyed numerous race wins and awards, including the 2016 Super Trofeo North American AM Championship, 2017 Super Trofeo North American PROAM Championship and 2017 Super Trofeo World PROAM Championship. In the area of services, RaceTronics offers Lamborghini Blancpain Super Trofeo support, encompassing driver coaching, damper development, show car program protocols, track day support and more.
"Comprised of members who were responsible for winning five LBST Championships in 2015 alone, US RaceTronics is the team that competes at the top level in the fastest one-make series in the world," states Meir Waizman, president of Boston Corporate Coach. "To say that Boston Corporate Coach is proud to have sponsored an awesome Lamborghini on the Super Trofeo North America circuit is something of a massive understatement."
Transcending the limits of being the leading chauffeur transportation company in the world, Boston Corporate Coach is comprised of a team of professionals committed to delivering a highly personalized level of service – one that is designed to exceed all expectations. The Boston Corporate Coach System, an integrated global network of certified Boston Corporate Coach Affiliates that operate according to rigorous BCC standards, assures consistent and unparalleled chauffeur service in dozens of nations and hundreds of cities.
What's more, the company's fleet of vehicles can accommodate any travel need and any number of travelers, including Town Cars, SUVs and luxury sedans in addition to stretch limos, vans and executive limo vans. For the largest groups, Boston Corporate Coach offers mini-coach and passenger buses.
Boston Corporate Coach is headquartered at 8 Faneuil Hall Marketplace, Third Floor in Boston. For more information visit http://www.BostonCorporateCoach.com.