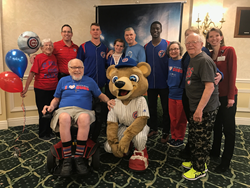 The bond these players and residents build throughout the season is incredible to see unfold
MISHAWAKA, Ind. (PRWEB) May 03, 2018
As spring emerges, baseball takes center stage for many Americans. While fans look forward to the crack of the bat, baseball fare and making memories, a special group of seniors at Saint Joseph Health System St. Paul's has been anticipating more than just the game itself — for the third straight year, they welcomed two minor-league baseball players to live with them in their senior community.
"Spring training starts the anticipation from residents trying to guess which players will be joining our family this year," said Shari Binkley, executive director of St. Paul's Life Plan Community. "Our residents even keep track of our past 'honorary residents' through the minor leagues to see how close they are getting to the majors."
This unique partnership began in 2016, with South Bend Cubs players Craig Brooks and Carson Sands pioneering this intergenerational living arrangement at St. Paul's. Since then, six additional players have become honorary residents.
"The bond these players and residents build throughout the season is incredible to see unfold," said Joe Hart, president of the South Bend Cubs. "And everyone knows when the St. Paul's fan club comes to the field to cheer on their fellow residents with their fan club T-shirts and pom-poms."
This year, outfielder Chris Singleton of Charleston, South Carolina, and pitcher Brendan King of Brookline, Massachusetts, became the newest South Bend Cubs players to join St. Paul's. Their apartments, right in the middle of the community, lend to an intergenerational environment not many get to experience.
"Being halfway across the country can be intimidating," added King. "And I appreciate all the support and being welcomed with open arms here."
Next door neighbor Singleton has already joined an exercise class at the community and plans to meet as many residents as he can. "This is something I know will be with me for the rest of my life," he added. "I look forward to the wisdom that I can take into the future with me."
About Saint Joseph Health System
Saint Joseph Health System (SJHS) is a not-for-profit health care system located in North Central Indiana that offers acute-based hospital care and post-acute services including: community wellness, physical rehabilitation, home care, physician clinics, outpatient services, independent and assisted senior living, memory care and affordable senior apartments. SJHS includes: Mishawaka Medical Center; Plymouth Medical Center; Rehabilitation Institute; Outpatient services of the Elm Road Medical Campus; Health Insurance Services; Saint Joseph Physician Network; VNA Home Care; the Senior Living Communities at St. Paul's, Holy Cross and Trinity Tower; and Saint Joseph PACE. SJHS serves more than 200,000 members of the Michiana community annually. SJHS is a Regional Health Ministry of Trinity Health in Livonia, Michigan.
About the South Bend Cubs
The South Bend Cubs are the Class A minor league affiliate of the World Series Champion Chicago Cubs. Over the past 29 seasons, the team has won five Midwest League titles, most recently in 2005, and has captured 12 division titles. In 2015, the team was named Ballpark Digest's Team of the Year and received the John H. Johnson President's Award, the highest award in minor league baseball. The team is owned and operated by Swing-Batter-Swing, LLC whose sole shareholder is Andrew T. Berlin of Chicago. More information is available at http://www.SouthBendCubs.com.
###