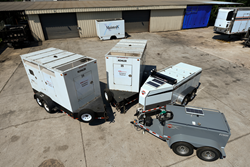 We want to provide the most comprehensive rapid disaster relief services we can for our customers.
TAMPA, Fla. (PRWEB) May 07, 2018
MaintenX International, a total facility maintenance company serving national multi-site retailers, restaurants and Fortune 500 companies across the country, recently acquired more than $1 million in emergency response assets for their Tampa, Fla., warehouse. Ranging from commercial-ready generators and fuel trucks to jetter trucks and rig-sized refrigeration trailers, MaintenX technicians are more prepared than ever to assist facility managers with any crisis they may face. After the devastation of Hurricanes Harvey and Irma, MaintenX invested in equipment enabling them to provide proper integrated response to their clients, no matter the emergency.
"We want to provide the most comprehensive rapid disaster relief services we can for our customers," said Bill Schaphorst, Vice President of Business Development for MaintenX. "Other companies aren't investing in equipment like we are, but we believe this scale of investment is needed to provide the level of service our customers deserve."
While other maintenance providers may own one or two generators and a few other assets, MaintenX's $1 million investment has allowed them to guarantee they can provide for their customers across the nation. MaintenX is able to provide the following assets to customers:

Backhoes
Bobcats with Grapple
Bucket Trucks
Dump Trucks
Fuel Trucks
Generators
Jetter Trucks
Refrigeration Trucks
Semi-Tractor Trailers
Trailers
With researchers predicting above average activity for the 2018 hurricane season it is important for facility managers to plan for the worst. If the power goes down or the water begins to rise, MaintenX technicians have the knowledge and resources to prepare any facility for bad weather. Another benefit of the scale of MaintenX's disaster response fleet size is that they can service a facility throughout a storm. For example, if a facility manager needs a generator it must be installed, refueled and then removed. This can be an overwhelming task without the help of professionals.
This expansive range of resources, coupled with an emphasis on customer satisfaction through laser focused work-order management and personalized account administration, sets MaintenX apart from the rest. For more information about MaintenX and the emergency services they provide, visit http://www.maintenx.com.
ABOUT MAINTENX INTERNATIONAL:
MaintenX International is a fully-licensed, facilities repair company. They are one of the largest national self-performing facility maintenance and repair companies in the U.S. MaintenX has created a network of knowledgeable and professional technicians throughout the country. With their team of well-trained technicians, MaintenX self-performs and manages facility maintenance for clients. In the event there is not a MaintenX technician in the area, the company has fostered a network of preferred vendor partners throughout the country to provide superior service for their clients. For more than 35 years, MaintenX has been expertly serving multi-location retail stores, restaurant chains, and Fortune 500 companies nationwide.