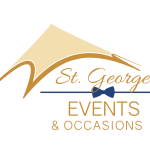 ST. GEORGE, Utah (PRWEB) May 08, 2018
Destination weddings are a beautiful way for couples to begin a new life together. Yet planning a destination wedding can be highly stressful. St. George Events & Occasions, a full-service event rental service located near such popular wedding destinations as the Grand Canyon, Bryce Canyon, and Zion National Park, presents some must-read planning tips for any destination wedding.
Blend Personal Meaning with Functionality
Most people choose wedding destinations that have some type of personal meaning for them. Yet even the most nostalgic location is not the best choice if hotel rooms and restaurants are hard to come by. Choose a spot that has the resources to handle a wedding.
Let Guests Know
Those who are planning destination weddings owe it to their loved ones to provide as much advance notice as possible. Traveling to a destination wedding can be pricey, and it may require time away from work or school, so guests should be notified as soon as the decision is made.
Work with the Location
It makes no sense to travel to an exotic destination to get married, only to import everything that could be found at home. Destination wedding couples can save big by focusing on local products, from flowers to foods.
Hire Help
Planning a wedding is an immense challenge for any engaged couple, and the difficulties are magnified when the wedding venue is hundreds or thousands of miles away. Hiring someone local to the destination to plan the wedding allows couples to make the big decisions without stressing out over the smaller details.
Visit the Venue
Those who are planning a destination wedding should visit at least once to see the venue and hire vendors. A second trip three or four months before the wedding is an excellent time to finalize the details, but if it is simply impossible, couples should plan to arrive a week before the wedding.
Fit the Dress to the Destination
Everyone wants to look their best on their wedding day, but it is impossible to look or feel good when wearing something completely inappropriate for the weather. If traveling to a hot destination, particularly during the summer months, choose a dress that is light and breathable. If the destination is in colder climes, select a heavier fabric and consider a matching wrap.
Hold onto the Dress
Brides should never check their wedding gowns when boarding a plane. Make arrangements ahead of time for pressing and steaming at the destination, and then carry the dress onto the plane.
About St. George Events & Occasions
Located in picturesque Utah, St. George Events & Occasions provides full-service event rentals that range from traditional to rustic to modern. The company delivers throughout Washington and Iron counties, and their staff can travel further for an additional fee. Those who are interested in event rentals are invited to call St. George Events & Occasions at (435) 574-4122 to learn more. The physical address is 1029 Majestic Dr, Washington, UT 84780. Visit the website for more information: https://stgevents.com.