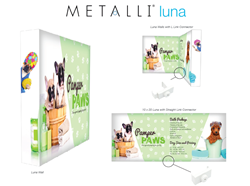 "What's so impressive about the Luna light wall is how it combines simplicity and grandeur into one tidy package. Walking by, you'd never know it only took one person 30 minutes or less to set it up," says Gilvar.
DALLAS (PRWEB) May 03, 2018
When The Trade Group's VP of Sales, Malcolm Gilvar, walked the halls at EuroShop 2017, he was looking for innovative ideas to bring back to TTG customers. One particular display – a sturdy, lightweight, double-sided light wall – caught his eye.
As Gilvar explains, "EuroShop, which occurs every four years in Germany, is the biggest trade show in the world for retail and trade show design. We always come away with plenty of ideas and insights on upcoming trends. It was during that trip that the inspiration for the METALLI® Luna light wall pop-up display was born."
Stunning SEG Fabric Graphics, High-Impact Ladder Lighting, Easy Set-Up and More
While the Luna offers many of the same popular features that light wall and lightbox fans love, it takes backlit fabric trade show displays to a whole new level. "What's so impressive about the Luna light wall is how it combines simplicity and grandeur into one tidy package. Walking by, you'd never know it only took one person 30 minutes or less to set it up," says Gilvar.
Here's why trade show and live event managers should give the METALLI Luna a closer look:
Customizable SEG fabric graphics – for both sides. Unlike many backlit displays, the Luna allows exhibitors to feature fabric graphics on both sides. According to Gilvar, "This provides a lot of flexibility for exhibitors who attend events in a variety of venues. The Luna works equally well as an inline or in an island configuration, running through the center of a booth space. It can be used as a standalone display or as an add-on to an existing exhibit. In addition, you can easily swap in new fabric graphics for different shows or the launch of a new product or service."
High-impact ladder lighting. While many light wall displays rely on perimeter lighting, the Luna features a full system of ladder lighting throughout the interior of the display. "The ladder lights direct light all the way from the sides and forward, plus there are 15 lights per bay instead of the traditional two. This eliminates unsightly shadows, even behind light colored fabric," explains Gilvar.
Durable construction that is visually impressive. The collapsible, aluminum, geometric frame, while lightweight, was designed with durability and easy set-up in mind. The Luna also features striking 14.5"-wide black-out end caps that keep the display in place and can be customized with branding, logos and graphics.
Plenty of sizes to choose from. Have specific size requirements? No worries. The 7.5' tall Luna is available in widths that size up in 2.5' increments, from 2.5' to 20' in length per unit. Looking to go larger? Place two or more Luna light walls side-by-side to maximize visual impact. "The Luna display can also come in custom sizes and has the ability to mount monitors and add product shelving," Gilvar explains.
Travel, shipping and drayage friendly. Because it is lightweight and packs down and sets up easily – THANK YOU silicone edge graphics and collapsible aluminum frame! – the Luna is ideal for reps who need a display they can take on the road solo – by car or plane. The compact, lightweight design also benefits exhibitors looking to rein in costs associated with shipping and drayage.
Ready to go for grandeur?
Contact The Trade Group. Their trade show and live event specialists are ready to help! Give them a call at 800-343-2005 to learn more about the METALLI Luna light wall and other pop-up, modular and custom trade show display options for trade shows and events.
About The Trade Group
The Trade Group is an award winning, full-service event marketing and creative design firm, specializing in trade shows, esports events and activations, corporate events, brand activations, retail merchandising, commercial graphics and experiential solutions. Since 1986, our team of live event, design and engineering experts has helped thousands of clients amplify their brands and successfully navigate a wide range of events and experiences. Clients rely on The Trade Group for: event ideation, creation and production; esports expertise; exhibit design and fabrication; graphic design and production; strategic marketing solutions; technology integration and more.