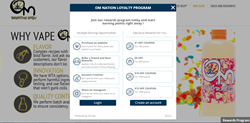 Thanks to Zinrelo, we now have a rewards program in place that is proving to pay off in a big way. We feel more connected with our customers than ever before, and our customers are happily engaging with our brand. - Leslie Sandusky, Marketing Director at Om Vapors
SUNNYVALE, Calif. (PRWEB) May 08, 2018
Popular e-Liquids company, Om Vapors, set out with the goal of engaging its customers and rewarding them for their onsite and social interactions with the brand. They adopted Zinrelo's loyalty rewards program to build brand loyalty, boost customer acquisition and retention by encouraging comprehensive customer engagement on its website.
With the launch of the rewards program, Om Vapors has been successful in creating a deeper relationship with its customers thus converting one time shoppers into loyal repeat customers. The loyalty program is encouraging users to engage with the brand by awarding loyalty points to its customers for multiple interactions on its website. Some of the activities that are rewarded with loyalty points are:

Joining the program: 100 points
Making a purchase: 5 points for every dollar spent
Sharing on Twitter, Instagram and Facebook: 50 points
Following on Twitter: 100 points
Referring a friend: 15% off a purchase
Exciting and easily attainable redemption options from Om Vapor offer customers' discounts toward future purchases. Monetary rewards keep customers consistently plugged-in and reaching for more rewards points. At just 500 points earned, customers begin receiving money-off coupons for Om Vapors. Coupons start at $5 for just 500 points, and they range all the way up to $20 off once 2000 points are earned.
Om Vapors is keeping its customers informed and engaged by sending loyalty program email notifications. These emails have been consistently well-received with a 35% open rate and 10% click-through rate. Om Vapors sends out email notifications to their loyalty program members when they have earned points, successfully referred someone to Om Vapors, or reached a new reward level.
"Thanks to Zinrelo, we now have a rewards program in place that is proving to pay off in a big way," commented Leslie Sandusky, Marketing Director at Om Vapors. "We feel more connected with our customers than ever before, and our customers are happily engaging with our brand! The entire process has been almost effortless."
Zinrelo works with businesses to create custom rewards programs that will ramp up customer loyalty and engagement. Businesses reap the benefits of Zinrelo's programs through increase in Average Order Value, increase in repeat sales, and consistent and positive engagement with the brand. Zinrelo has established itself as a leader in loyalty due to its multi-faceted loyalty rewards system:
360-Degree Engagement Module: This feature allows businesses to reward its customers in multiple ways by adding custom activities for rewards.
Unmatched User Experience: The self-service platform offers a fully customizable End-User Dashboard and Admin Console for enhanced flexibility.
Powerful Business Rules Engine: This unique feature can help businesses build sophisticated reward scenarios that can maximize user engagement.
Omni-Channel support: The loyalty rewards program can be deployed seamlessly across desktop web, mobile web, mobile apps and in-store environments.
Powerful API access: Zinrelo loyalty rewards program has been developed using an API-first approach. It is the only loyalty rewards program in the world that can be seamlessly embedded within your business processes completely via APIs and Webhooks.
Pay-As-You-Go pricing: Zinrelo offers a pay-as-you-grow plan that enables you to build a customized loyalty program to achieve your business objectives.
"Zinrelo's loyalty rewards program acted as a perfect catalyst for Om Vapors to maximize customer engagement on its website," stated Samir Palnitkar, Founder at Zinrelo. "Reaching out to Zinrelo is a must for any business intent on building rapport and ongoing connection with their customers. Om Vapors' success in implementing our 360-degree loyalty rewards program is another feather in our cap!"
About Om Vapors:
Om Vapors was founded in 2014 with a simple mission: to make quality, well-tested e-liquid that doesn't break the bank. All of their e-liquids are carefully crafted to ensure that they provide customers with the most delicious experience possible.
For more information, visit https://www.omvapors.com/
About Zinrelo:
Zinrelo brings you the world's best loyalty rewards and referral programs, helping to maximize revenue per customer and new customer acquisition through 360-degree customer engagement. It supports omni-channel interactions including desktop web, mobile web, mobile apps and in-store engagements.
Zinrelo loyalty rewards program boosts per-customer revenue by 2.4 times and repeat purchases by 80%. It creates fiercely loyal customers that are rewarded for all forms of engagements including purchases, social advocacy, reviews, sign-ups, referrals, photo sharing and more. It is fully customizable and is easy to deploy. Zinrelo referral program delivers a 25% uplift in new customer acquisition by converting your customers into brand ambassadors.
To zing your loyalty and referral programs, contact Zinrelo at http://www.zinrelo.com or info(at)zinrelo(dot)com