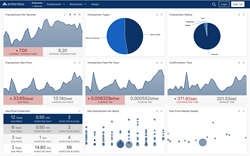 "We have received overwhelming support, feedback and feature requests from the community", said Tongtong Gong, co-founder of Amberdata.
NEW YORK (PRWEB) May 04, 2018
Amberdata, the leading provider for blockchain monitoring and analytics, today announced the release of their SaaS platform supporting Ethereum at EDCON in Toronto. This community edition of the platform provides operational intelligence for public Ethereum and it will remain free for Ethereum community, smart contract developers, crypto investors and entrepreneurs building business on blockchain.
Amberdata provides live monitoring and insights, smart contract metrics, personalized alerts, anomaly detection, graph visualization as well as full Ethereum blockchain search. Key performance indicators along with historical context for Ethereum infrastructure, smart contracts and transactions are easily accessible to all.
"Since the platform public Beta launched at Women in Blockchain last February in New York, we have received overwhelming support, feedback and feature requests from the community", says Tongtong Gong, co-founder of Amberdata. "We are thrilled to announce the GA release at EDCON, the Community Ethereum Development Conference."
Shawn Douglass, CEO of Amberdata, added: "There was no enterprise grade solution for operational insights, application performance monitoring, infrastructure visibility or search. The Splunk, AppDynamics or New Relic for blockchain had not been built. Having run software business at scale, we knew everyone would need transparency into the state and health of blockchain infrastructure, applications and transactions. This is not nice to have, but rather a required piece in the ecosystem for anyone to adopt blockchain."
To learn more about Amberdata, deployable enterprise platform, or to schedule an interview, contact media@amberdata.io. Sign up for the free community edition of the platform at https://amberdata.io
About Amberdata
Amberdata is building a SaaS platform for monitoring, searching, analyzing and securing public and private blockchains. Amberdata provides operational intelligence for blockchain infrastructure, on-chain decentralized applications, token utilization and transactions. For more information, visit https://www.amberdata.io