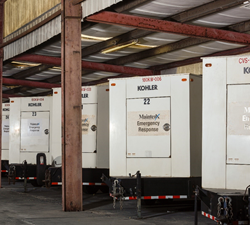 Each year, power outages are estimated to cost American businesses over $100 billion dollars.
TAMPA, Fla. (PRWEB) May 11, 2018
MaintenX international recently invested over $1 million in disaster relief assets for their Tampa, Fla. warehouse. The assets include dozens of commercial-sized generators to help power local businesses when their electricity goes down. After seeing the immense need for backup power resources during the 2017 hurricane season, MaintenX decided to expand their generator fleet to ensure customers can remain open for business.
"Whether a facility manager is facing a short-term power outage from a downed power line or a longer-term issue like recovering from a major storm, MaintenX has the capabilities to help support their needs and power their business," shared Bill Schaphorst, Vice President of Business Development for MaintenX. "We offer a completely integrated emergency response."
Each year, power outages are estimated to cost American businesses over $100 billion dollars. Facilities can experience interruption of daily operations, inventory loss, food spoilage, and a number of other consequences when power outages occur. These costly impacts of power loss can be mitigated through the use of a generator. However, commercial generators can be dangerous is used improperly.
Risks involved with improperly installing generators include electric shock or creation of dangerous back-feed loops, overloading the generator resulting in damaged appliances, fires from spilled gasoline or damaged cords, and carbon monoxide poisoning.
Professionals, like MaintenX technicians, are trained in proper set up, maintenance and removal of generators, helping to keep business owners and patrons safe. If a business experiences an extended power outage, a generator will need to run continuously while still being maintained. This can include refilling the gas tank, changing the oil, replacing air and oil filters or clearing away debris from vents.
"Our technicians are able to provide a completely integrated response. From the first call for help until after the disaster is over, the MaintenX team is there to provide assistance to our customers," said Schaphorst.
For more information about MaintenX or the rapid disaster response services they provide, visit http://www.maintenx.com.
ABOUT MAINTENX INTERNATIONAL:
MaintenX International is a fully-licensed, facilities repair company. They are one of the largest national self-performing facility maintenance and repair companies in the U.S. MaintenX has created a network of knowledgeable and professional technicians throughout the country. With their team of well-trained technicians, MaintenX self-performs and manages facility maintenance for clients. In the event there is not a MaintenX technician in the area, the company has fostered a network of preferred vendor partners throughout the country to provide superior service for their clients. For more than 35 years, MaintenX has been expertly serving multi-location retail stores, restaurant chains, and Fortune 500 companies nationwide.