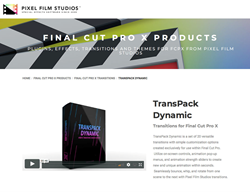 "TransPack Dynamic incorporates spectacular transitional elements that add an extra dose of energy to Final Cut Pro X projects!"
ALISO VIEJO, Calif. (PRWEB) May 05, 2018
TransPack Dynamic is a set of 20 versatile transitions with simple customization options created exclusively for use within Final Cut Pro. Utilize on-screen controls, animation pop-up menus, and animation strength sliders to create a new and unique animation within seconds. Seamlessly bounce, whip, and rotate from one scene to the next with Pixel Film Studios transitions.
TransPack Dynamic features simple motion blurred transition animations for use in Final Cut Pro. Pick and choose from bouncing, whipping, scaling, rotating, and swinging presets with incredible customization options.
Video editors can select from Animate In or Animate Out presets. Animate In presets seamlessly animates the second scene in, while Animate Out presets will animate the first scene out. Move from one clip to the next with Pixel Film Studios transitions.
TransPack Dynamic presets a variety of options including anchor point, camera, light, speed method, and direction controls. Shift the anchor point to change the animation origin point. With Camera Controls, users can adjust the angle of view to create a more dynamic perspective in rotating presets. Using speed method and direction drop-down menus, editors can create brand new animations with a single click.
TransPack Dynamic provides users with an easy way to add simple motion blurred transitions to footage in Final Cut Pro X. Instantly move from one scene to the next without ever having to set a keyframe. Editing has never been easier in Final Cut Pro X with Pixel Film Studios.
Established in 2006, Aliso Viejo, California-based Pixel Film Studios is an innovative developer of visual effects tools for the post-production and broadcast community. Their products are integrated with popular non-linear editing and compositing products from Apple FCPX. Apple, the Apple logo, Mac OS X, and Macintosh are registered trademarks of Apple Inc. in the U.S. and/or other countries. All other trademarks and trade names are the property of their respective owners.