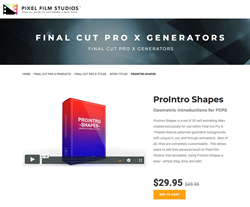 "Simple and clean introductory titles are effortlessly designed to bring eye-catching attention to any FCPX project!"
ALISO VIEJO, Calif. (PRWEB) May 06, 2018
ProIntro Shapes is a set of 30 self-animating titles created exclusively for use within Final Cut Pro X. Presets feature patterned geometric backgrounds with unique in, out, and through animations. Best of all, titles are completely customizable. This allows users to add their personal touch to Pixel Film Studios' title templates. Using ProIntro Shapes is easy– simply drag, drop, and edit!
ProIntro Shapes includes 30 geometric self-animating presets that are created to be compatible with pictures and media in any Final Cut Pro X production. Simply drag, drop, and begin editing. Each preset design features unique title animations and background elements with customizable options. Create sleek title animations with incredible ease using Pixel Film Studios titles.
ProIntro Shape presets include Drop Shadow Controls that can be toggled on and off with a single click. Easily adjust the color, opacity, blur, and distance of title elements. To achieve a soft and subtle shadow, increase the blur amount and distance sliders. For a harsher shadow, turn down the opacity slightly and leave the blur at zero.
ProIntro Shapes features on-screen controls that enable users to scale, position, and rotate presets in Final Cut Pro. Drag the center control to reposition the title and use the handle to rotate titles on the Z axis. With the circle control, users can freely manipulate the overall size of titles.
ProIntro Shape presets feature colorful backgrounds with geometric shape patterns. Easily customize the direction of the background animation, shapes color, and shape amount with pop-up menus and sliders. Alter the background opacity to achieve different looks using the shape pattern as an overlay for the media below.
Established in 2006, Aliso Viejo, California-based Pixel Film Studios is an innovative developer of visual effects tools for the post-production and broadcast community. Their products are integrated with popular non-linear editing and compositing products from Apple FCPX. Apple, the Apple logo, Mac OS X, and Macintosh are registered trademarks of Apple Inc. in the U.S. and/or other countries. All other trademarks and trade names are the property of their respective owners.