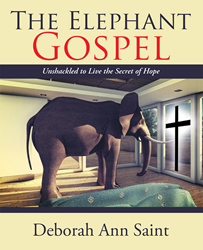 BRADENTON, Fla. (PRWEB) May 07, 2018
For the downtrodden, the forgotten, and the guilt-ridden, there is hope. "The Elephant Gospel: Unshackled to Live the Secret of Hope" by Deborah Ann Saint is a spiritual guidebook conveying the truths of the Gospel, displaying the power of Christ to forgive and know His Salvation.
The book encourages Christians to interact with others, as Jesus did the woman at the well, (Photina) to show the gift of God in its reality. It also provides honest testimony of loving after woundedness, acceptance of one's own past and choosing forgiveness for one's self and others to show the keys to living a victorious life.
"If you or someone you love has an ugly, seemingly unforgivable past like mine, you too can know by evidence from the Bible that you can be forgiven," said Saint. "You can learn to live forgiven, with a clear conscience. The relief from all guilt and shame is a pivotal gift of the Gospel that we get the privilege of offering in turn to others."
Uniquely conveying truths through a series of four elephant parables, this book seeks to reveal the magnitude of what is at stake when we live true to the real Gospel, and what happens when we understand and herald the Gospel in the power Christ entrusted to us.
"The Elephant Gospel: Unshackled to Live the Secret of Hope"
By Deborah Ann Saint
ISBN: 9781512769555 (softcover); 9781512769548 (eBook)
Available at the WestBow Press Online Bookstore, Amazon and Barnes & Noble
About the author
Deborah Ann Saint has been a "woman at the well." She writes to tell whoever will listen, "Come see a man who knew all about the things I did, who knows me inside and out and loves me! He is Messiah, and He has the secret of hope!" Saint and her husband have two adult sons. To learn more, please visit http://www.theelephantgospel.com.
General Inquiries:
LAVIDGE – Phoenix
Bryan Beach
480-306-6554
bbeach(at)lavidge(dot)com
Review Copies & Interview Requests:
LAVIDGE – Phoenix
Kiersten Woglom
480-998-2600 x 586
kwoglom(at)lavidge(dot)com