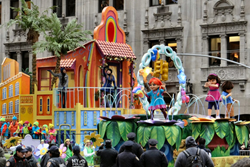 The venue is glamorous, charming and regal – a truly special way to experience the Macy's Thanksgiving Day Parade in style!
NEW YORK (PRWEB) May 08, 2018
Joining an impressive lineup of Macy's Thanksgiving Day Parade events from New York City Vacation Packages (NYCVP) - the Thanksgiving Macy's Parade Party at Gotham Hall is a venue like no other.
Barry Tenenbaum, President of NYCVP, sang the praises of the setting stating, "I'm impressed by the history of the building – it's a huge, iconic, historic building, close to Macy's and right on the 6th Avenue parade route. Gotham Hall is a city block long – from Broadway to 6th Avenue. It boasts a fabulous catering department offering an elaborate menu that will be served buffet style. The venue is glamorous, charming and regal – a truly special way to experience the Macy's Thanksgiving Day Parade in style!"
The day beings at 8:00AM when the doors to this designated New York City landmark open to welcome guests onto a red carpet entryway that leads into the spectacular seven-story gilded ballroom. After they've checked their coats they're ready to enjoy a fabulous breakfast buffet that will be served throughout the four-hour event in an ornate and elegant atmosphere – one that has hosted celebrities, dignitaries and even US presidents.
Once the world-famous Macy's Thanksgiving Day Parade starts guests can choose how they want to take it all in. Step outside to the 6th Avenue sidewalk and watch the magic of the stories-high balloons, elaborate floats and always entertaining marching bands up close and in person - or stay comfortably seated at their table and take in all the splendor on a huge projection screen. And - since the venue is only two blocks from Macy's Herald Square - they can even stroll down the street to get a glimpse of the live performances that take place there. There may be no better way to enjoy this iconic parade that has welcomed in the holiday season for over 90 years.
The red carpet, the fine food and the fabulous view of the parade right outside of the entrance - plus unlimited access to Gotham Hall's facilities during the parade – are sure to make a guest feel like one of the many celebrities who have attended events here. If the iconic Macy's Thanksgiving Day Parade is on your bucket list this is a new and unique way to experience it!
NYCVP has a selection of comfortable and well-located accommodations for a Thanksgiving visit to New York City. All are within walking distance of Gotham Hall, Broadway theaters, sightseeing departure points and City landmarks so there's need for local transportation. Special limited time introductory rates start at $979.00 per person for 3-night complete package.
For more information visit http://www.nyctrip.com or call NYCVP at 877 NYC-Trip (877 692-8747).
___________________________________________________________________________________
About NYCVP
New York City Vacation Packages has been a trusted NYC travel information authority since 1983 and is the only major independent tour company in the United States devoted exclusively to NYC travel. NYCVP offers services to make sure your custom New York City vacation is safe and secure, and is a member in good standing of NYC & Company (New York City's marketing and tourism organization), the National Tour Association, Better Business Bureau and the American Society of Travel Agents Tour Operator Program.