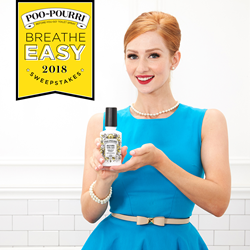 Participants can enter for the chance to win up to $500
DALLAS (PRWEB) May 04, 2018
As environment and health-conscious consumers push to eliminate chemicals in their homes, Poo-Pourri is launching the #BreatheEasy sweepstakes. Participants can enter for a chance to win up to $500 by demonstrating how the chemical-free formula of Poo-Pourri helps users enjoy a healthy, odor-free, clean-air bathroom.
Participants can enter the sweepstakes at PooPourri.com/BreatheEasy from May 1, 2018, to May 31, 2018. Four lucky winners will be awarded a $100 Amazon gift card, with an extra-lucky Grand Prize winner being awarded a $500 Amazon gift card.
For sweepstakes entrants to participate, all they have to do is post a video sharing how they breathe easier using Poo-Pourri, then post to one of Poo-Pourri's social channels on Facebook, Instagram or Twitter using the hashtag #BreatheEasySweepstakes. They can also enter directly at PooPourri.com/BreatheEasy.
For more information about the #BreatheEasy sweepstakes including the official sweepstakes rules, visit PooPourri.com/BreatheEasy
ABOUT POO-POURRI
Since 2007, Poo~Pourri Before-You-Go Toilet Spray has been stopping bathroom odor before it begins so you can leave the bathroom smelling better than you found it. With over 275 million combined video views and over 40 million bottles sold, Poo~Pourri has become a pop culture sensation and start-up success. Poo~Pourri is sold in over 10,000 independent retailers and nationwide retailers including Target, CVS, Bed Bath & Beyond, Ulta, and Amazon.com. Poo~Pourri earned the Good Housekeeping Seal of Approval in 2013 and an Edison award in 2014. The company was also ranked on Inc.'s 5000 Fastest Growing Companies. To learn more, visit http://www.PooPourri.com.
PRESS CONTACT
Rebekah Riley
(972) 818-8200